May 22, 2019
Whether you are facing a medical illness or an imminent office deadline, it's important not to let stress consume you.
Now, thanks to Turning Point, a program of The University of Kansas Health System, you can access skills online to help you cope with stress, no matter where you are, day or night.
Turning Point adapted several of its most popular programs to an online format called the Resilience Toolbox. Using the Resilience Toolbox, anyone can benefit from the expertise of Turning Point completely cost-free.
Through these resiliency training programs, you can learn the skills to manage your everyday stressors in the most effective ways possible.
Turning Point provides research-based programs that build resilience, or the ability to adapt well to adversity, trauma and stress.
The online program modules focus on a different topic or technique to increase resiliency and reduce stress or anxiety. These include:
Human beings are born to express emotions. Whether we choose to do it in a healthy way is up to us, because we do have options.

By adopting hopeful and optimistic attitudes, we change how our brains process and deal with stressful feelings.

Sleep helps us overcome stresses of everyday life, but only if we get the right amount of good sleep. There are several techniques to ensure we get the most out of our rest each night.

Stress and nutrition go hand in hand. Being mindful of what and how we eat can give our bodies a leg up in the battle against stress.

We all feel pain. When we feel pain, it all stems from one place – the brain. Luckily, this means we actually have some control over what pain we feel and how it affects us.

There is growing evidence that this mind-body practice has value in treating or preventing many health problems.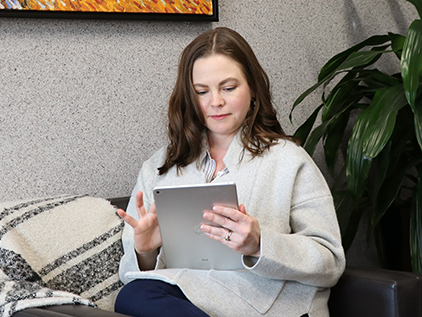 The road to resilience
Learn more about these topics, why they're important to people living with stress and how to apply the lessons to your life.
View the toolbox