May 09, 2023
First Things First
Let's start from the very beginning (a very good place to start).
We deliver babies at The University of Kansas Health System. That might sound obvious for a hospital. But when you're known for lifesaving treatments born from research and clinical trials at an academic health system, sometimes the more routine doesn't come to mind.
OK, I should speak for myself. I once asked, "Do we deliver babies here?"
Boy (and girl), do we ever.
Labor and delivery care is booming
"Our labor and delivery team has amazing nurses, physicians, anesthesia providers. We are growing leaps and bounds every year. I'm excited for our future," said Jaime Milnes, director of nursing for our maternal medicine care. "I think great things are in our future, and I really see this service expanding even beyond what we have in current capacity."
Milnes oversees nursing in pediatrics, neonatal intensive care (NICU), pediatric intensive care (PICU), mother and baby, a full-term nursery and the postpartem unit. That's a lot of nurses. And recently, they've had a lot of babies to deliver.
On March 27, the division set a 1-day record with 17 deliveries. This past January's 264 births set a record for a month. These baby booms happen from time to time. But when records are set, the division knows word is getting out that the stork flies by here on a regular basis.
Milnes has been at the health system all 17 years of her nursing career. Likewise, Missy Donovan, Milnes' nurse, hasn't worked anywhere else in her 16 years.
"I think we have the best team of nurses in the whole health system," Donovan said. That brought a smile to Milnes, and we both knew where she was coming from. There's no harm in taking so much pride in your colleagues that you strive to be the best even in friendly competition.
"Our patients are lucky that this nursing staff is there to take care of them because they care so much," Donovan said. "They come to work, they do their best, and they're really just a great team."
Prepared to do it all
So what prompted me to ask the question in the first place? Remember, I'm still a newborn, of sorts, in the healthcare world. I also fall into assumptions sometimes that – because we treat the trickiest diseases and conditions and are known throughout the country for it – we don't focus on the more routine services. Nothing could be further from the truth. The University of Kansas Health System is armed to the teeth with expertise from gestation to death and everything in between.
The run-of-the-mill stuff is important. Growing maternal medicine care, colonoscopies, rehab and primary care is an integral part of our vision. Having Olathe Health integrated into the health system (a subject worth a few blogs of its own) is furthering that goal big-time.
But we haven't been ranked the best hospital in Kansas City and the state of Kansas and consistently scoring top rankings in services lines like cancer, cardiology and orthopedics by shying away from the hardest cases. Let me connect the baby dots here.
"Baby growth" is happening, Milnes believes, not only by word-of-mouth but because the health system's reputation is attracting more mothers with complicated pregnancies.
"People come into a nursing career and say, 'Oh, I want to deliver babies,'" Milnes said. "What a great and wonderful part of nursing that is. And then there's the reality of … birth is a miracle. And you know, sometimes we have outcomes that are not great.
To know they're getting the absolute best care and that we have all those extra teams that can help manage ... you know those people who couldn't have babies before can have them now, and they can do that here safely. Jaime Milnes

Director of Nursing
Making the impossible possible
"Modern medicine has allowed us to have more people who before wouldn't have been able to have babies," she said.
Setting that expectation for her staff has been a big part of the job.
"That's really hard. And that's a part of labor and delivery nursing that doesn't get highlighted or talked about, but it's a reality. Especially in today's world and especially at a place where we have a very robust high-risk maternal medicine team."
This forms an interesting partnership with just about everyone else at the health system. The team treats moms with complications like placental abruption. That's when the placenta grows too deeply into the uterine wall. When the mother is also being treated for disease or illness, like diabetes, cystic fibrosis and congenital heart failure, the health system has an array of specialists at the ready to bring out those best outcomes.
"To know they're getting the absolute best care and that we have all those extra teams that can help manage," Milnes said, "you know those people who couldn't have babies before can have them now, and they can do that here safely."
Fun fact, and Milnes and Donovan brought this up first: Baby booms happen regularly in the fall. Say, about 9 months after New Year's. Or a Chiefs Super Bowl run, which has become almost like clockwork. As medical advances make risky pregnancies less so, the team will track the data to see if the acuity, the seriousness of the pregnancy, lessens for what is now still considered high risk.
Happy and healthy babies are the end goal. Happy babies make happy parents and certainly happy caregivers.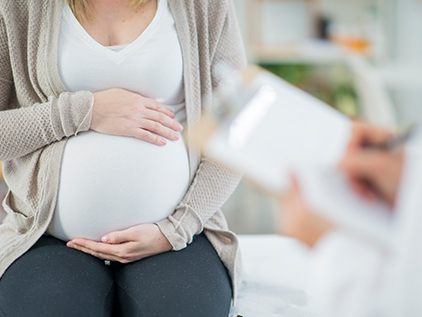 Better care from the beginning
Named one of the safest places in North America to have your baby, we are proud to report 32.5% fewer cesarean-section deliveries than the national average and nearly 0 birth injuries.
Read More