Skip Navigation
Burns can be quite minor, or serious enough to be life-threatening. Because of this, treatment for burn care varies widely. Appropriate diagnosis and prompt treatment of burns is critical to control and minimize burn damage.
At The University of Kansas Health System, we specialize in advanced burn and wound care, including inpatient burn care at the Gene and Barbara Burnett Burn Center. Our team of specialists offers the best treatments to create a customized burn treatment plan that's tailored to your individual needs. We also host a monthly support group for burn survivors, providing a therapeutic environment that helps you feel connected and supported throughout your recovery.
What are burns?
Burns occur when body tissues are damaged due to heat, including electrical exposure. Exposure to certain chemicals can also result in a burn. Some burns are minor enough to be treated at home with over-the-counter remedies. Burns that are more serious need prompt attention from burn specialists. Severe burns can require specialized inpatient care at a dedicated burn center.
Types of burns
Burns are classified by the depth of the skin damage:
Burn symptoms and risks
Burn symptoms vary depending on what degree the burn is, but generally include:
Blisters
Peeling skin
Red, white or charred skin
Swelling
Pain can also be a symptom of burns, but it's important to remember that the most serious type of burn may actually be painless due to nerve damage. Because of this, pain itself should not be used as an indicator for how severe the burn damage is, as third-degree burns often hurt less than second-degree burns. A serious burn can also cause shock, so shock symptoms may be seen alongside burn symptoms.
Burn prevention is the most important factor in lowering the risk of burn injury. The American Burn Association recommends making simple behavioral and environmental changes to reduce exposure risks, such as following safe cooking tips and checking smoke detectors regularly.
Burn diagnosis and screening
Your doctor will perform a burn evaluation to decide on the best treatment plan for your burn. During a burn evaluation, your doctor will examine the burn injury to determine the depth of the burn.
Another factor your doctor will look at is the total percentage of your body that's been burned. This calculation is known as total body surface area (TBSA). TBSA is used to decide whether to transfer your treatment to a burn center, as well as for making specific treatment recommendations.
Time-Critical Diagnosis
Narrator: On any given day any of us could have a medical emergency, where our health or even our lives are on the line. In those moments, decisions matter. Where you go, and who you trust with your health, or that of a loved one. We honor that trust at The University of Kansas Hospital, with our commitment to be the most qualified source in the region for time-critical care.
Narrator: The University of Kansas Hospital is the region's only burn care facility accredited by the American Burn Association, and American College of Surgeons.
Dr. Howard: We have hydro-therapy for taking care of burns and dressings; we have dedicated ICUs and a dedicated OR, which is pretty unique.
Kayla: We see these patients every day; it is our specialty, and that's what allows us to have that increased and advanced knowledge, and really provide that best care for the burn patient.
Dr. Howard: We're very good about getting them through their hospital stay, but that's not where burn care ends. We follow these patients throughout their lives even, for months and years to come, to make sure that they're able to go back to functioning in the community and their life.
Kayla: Our main goal is ensuring that burn victims become burn survivors.
Narrator: No one can predict a medical emergency, but we can do our best to prepare for one. And knowing where to find the best care in the region is an important first step. The University of Kansas Hospital: Why would you go anywhere else?
Burn treatment
Treatment for burn injuries varies depending on the type of burn as well as the severity and total body surface area affected. Burn treatments may be inpatient or outpatient.
Why choose us for burn treatment
Specialists at The University of Kansas Health System provide comprehensive inpatient and outpatient care to adults and children with complex burns and wounds. In addition, we treat skin injuries and conditions such as frostbite, severe dermatitis and abrasions. You'll receive a continuum of advanced care that includes burn wellness programs and a burn survivor support group.
Our multidisciplinary burn care team comprises board-certified plastic surgeons, general surgeons, internal medicine specialists, dermatologists, nurses, physical therapists and nutritionists, among other medical professionals. We collaborate in research to develop advanced techniques to improve burn care for burn survivors now and in the future.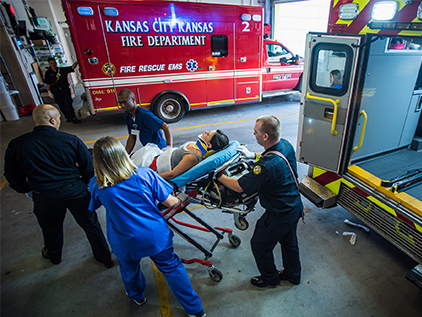 Advanced trauma care
We are the region's most experienced nationally verified Level I Trauma Center, designated by the American College of Surgeons. This distinction recognizes our ability to provide the highest possible standard of care to critically injured patients.
Our trauma center