Skip Navigation
Your hip and knee joints were designed to last a lifetime, but injuries, excess weight, arthritis and other diseases can cause these joints to ache, hurt and lose mobility and flexibility. At The University of Kansas Health System, we provide care for a wide range of hip and knee problems, including both sports injuries and underlying health conditions like arthritis.
What are hip and knee injuries?
Hip and knee injuries can cause pain when climbing stairs, getting up from a chair or even while walking and doing other everyday activities. The pain can range from mildly irritating to incapacitating. Hip and knee injury can be treated with medications, injections, physical therapy, surgery and, if necessary, total joint replacement.
Types of hip and knee injuries
Our team of specialists treat a range of injuries and health conditions that affect the hip and knee:
Arthritis of the knee and hip
Baker's cysts (popliteal cyst)
Bone spurs
Bursitis
Cartilage damage
Hamstring tears
Hip pain and hip injuries
IT band syndrome
Joint pain and degenerative joint disease
Knee pain and injuries
Labral tears
Ligament tears – ACL, MCL/LCL, PCL
Meniscus tear
Patella dislocations
Patellar tendon tears and injuries
Stress fractures
Tendonitis, tendinosis and tendinopathy
Same-day care available for orthopedic injuries
We offer walk-in care for acute orthopedic injuries such as fractures, strains and sprains in Overland Park. Walk-in hours are weekdays 8 a.m.-7 p.m. and Saturdays 8 a.m.-2 p.m.
Learn more
Hip and knee injury symptoms and risks
Symptoms of a hip or knee injury can vary in specifics and intensity, depending on the underlying cause. Possible signs that you've injured your hip or knee include:
Pain in the hip or knee, especially pain that worsens with movement
Reduced range of motion
Swelling or bruising around the hip or knee
Pain in the knee can sometimes be the only sign of a hip injury. This is because pain in the hip can cause you to change the way you walk to compensate, which in turn puts strain on the knees. Knee pain can also be a possible symptom of a foot or ankle injury.
You can lower your risk for hip or knee injuries if you:
Modify or stop activities that cause discomfort
Stretch before running or playing sports
Wear footwear that helps keep your foot and ankle properly aligned with your knee and hip joints
Hip and knee injury diagnosis and screening
Your doctor will conduct a physical exam and take a complete medical history to evaluate the nature of your hip or knee injury. Some of the factors your doctor may look for include:
If the hip or knee area looks swollen or feels tender to the touch
Range of motion in the hip or knee
Whether the symptoms you experience happen only when your hip or knee is held in a certain position
Your doctor may also recommend imaging tests to identify the extent of your injury or condition:
Hip and knee injury treatment
The best treatment for your hip or knee injury depends on the type of injury or joint condition you have. The University of Kansas Health System offers a number of treatments to address different injuries and conditions that affect the hip and knee:
Cartilage replacement transplantation
Hamstring repairs
Hip arthroscopy
Hip preservation and replacement
Joint aspiration and injection
Knee reconstruction – ACL, MCL/LCL, PCL
Labral repair and reconstruction
Meniscus repair meniscectomy meniscus transplant
Minimally invasive hip replacement (direct anterior hip replacement surgery)
Nonsurgical treatment, including physical therapy and rehabilitation
OCD lesion repairs
Periacetabular osteotomy
Traditional and robot-assisted knee replacement surgery
Why choose us for hip and knee injury treatment
At The University of Kansas Health System, we have a number of qualified specialists who treat hip and knee pain. Your care team may include orthopedists, orthopedic surgeons, sports medicine doctors, physiatrists or other specialists, depending the cause of your hip and knee pain. They are part of a dedicated, multidisciplinary team that also includes anesthesiologists, nurses and physical and occupational therapists who work together to help you recover.
This team will support you from your first preoperative assessment visit and throughout your recovery. In addition, you will have access to the full resources of the health system – specialized imaging technologies, state-of-the-art physical facilities, comprehensive education and recovery support resources – to help you heal as quickly and completely as possible.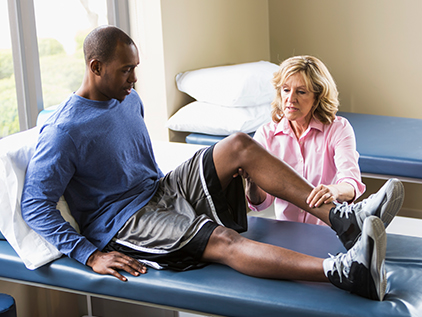 More than physical healing
An ACL injury can hurt an athlete psychologically, not just physically. Find out how to deal with the psychological impact of this injury.
ACL recovery