Skip Navigation
Discovering you have multiple sclerosis and learning to manage all it entails can be a challenging undertaking. Our team is here to help. Our goal is to guide you through a diagnosis and on to the treatment strategies that help you lead the fullest possible life.
Our expert care team at The University of Kansas Health System in Kansas City includes fellowship-trained doctors, clinical pharmacists and specialty-focused nurses on site. And our organization's broad network of specialists offers the interdisciplinary team patients with multiple sclerosis (MS) need to address all facets of life with the disease. Depending on patients' unique needs, this may include neurourologists, neuro-ophthalmologists, physical, occupational and speech therapists, psychologists, psychiatrists and social workers.
Together, we stand ready to help you navigate the complex nature of MS.
About MS
MS is a chronic, unpredictable and wide-ranging disease that does more to raise questions than provide answers. MS affects the central nervous system, disrupting the flow of information from the brain to the spinal cord. More common in women than in men, the disease most often occurs in patients ages 20-40, though it can affect a patient of any age.

The severity and duration of MS symptoms can vary. Some people may be free of symptoms most of their lives, while others may experience severe, chronic symptoms. Some people diagnosed with MS may experience fairly minor complications, while others notice life-altering effects over the lifetime of the disease.

Some common early symptoms include:

Fatigue
Loss of vision due to inflammation of the optic nerve
Difficulty walking
Abnormal sensations, such as numbness or prickling
Pain
Vertigo

As the disease progresses, patients with MS may experience muscle weakness, poor coordination, muscle stiffness or spasms, dizziness or bowel and bladder issues. About half of all MS patients will also experience memory, concentration and attention difficulties.

There is no definitive test to positively diagnose MS. Instead, doctors will conduct a battery of tests and evaluations to rule out other diseases. These typically include:

A full neurological examination to assess mental, emotional and language functions as well as movement and coordination, vision, balance and sense function
A complete review of medical history
Magnetic resonance imaging
Spinal tap or lumbar puncture to analyze the fluid around the spinal column
Blood tests to rule out other causes

There is no cure for MS, and the cause is unknown. However, there are treatments that can help control symptoms, slow the progression of the disease or alter the path of the disease to improve function and mobility.

Your MS care team will work with you to develop a treatment plan based on your overall health and medical history as well as your age, the extent of the disease and your tolerance for medicines and therapies. Your symptoms can be treated through the following methods:

Medication
Rehabilitation
Lifestyle changes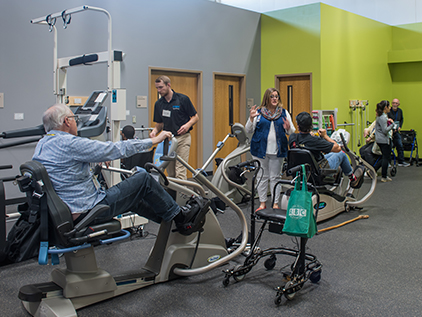 MS Achievement Center
In addition to providing exceptional care and engaging in leading research and clinical trials, we and our partners at the University of Kansas Medical Center offer the Multiple Sclerosis Achievement Center – one of just 6 of its kind in the nation – to enhance quality of life for those with advanced MS. The program provides physical rehabilitation, psychological support, health education and social activities.
About the center
I have had multiple sclerosis for 32 years. The MS Achievement Center helped me stay moving, mentally and physically. When I leave the center, I feel refreshed and look forward to returning the next week. – MS Achievement Center member

Comprehensive Care Center
We are a designated Comprehensive Care Center by the National Multiple Sclerosis Society.

Leading researchers
Our providers are also leading researchers. They care for patients today and drive research to develop new treatments.

MS Achievement Center
Our center provides therapeutic services for individuals with progressive MS.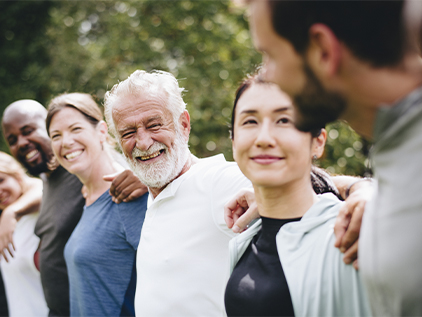 Turning Point
Turning Point offers free classes, programs and tools designed to empower and educate people affected by chronic or serious illness.
Learn more about our services
What to expect
New patients
Whether you are looking for confirmation of your diagnosis, a second opinion or a new provider for your care, we welcome you. For your first visit, bring:
Your records from the past year, including MRI reports and images, clinic notes from the referring physicians, lumbar puncture results and blood work
The completed questionnaires we will send you when you schedule your appointment. If you have not received the questionnaires by a month prior to your appointment, call 913-588-6820 to let us know.
The name and address of your referring and primary care physicians
A written list of current medications, including the name, strength and dosage frequency. If you prefer, you may bring your medication containers.
Your health insurance card
Please arrive to your first appointment 30 minutes early to register and verify your information. This appointment is an important opportunity for our providers to get to know you, understand your medical background and develop a care plan. You will likely spend an hour or more with us.
The current waiting time for an appointment with our specialists is about 4 months. If you have an emergent or critical need, ask your physician to call our office at 913-588-6820.
We look forward to your visit.
Current patients
We look forward to serving as your ongoing care partners. For each visit, please:
Bring your insurance card. Copayments are due at the time of service.
Bring any necessary referrals from your primary care physician.
Schedule your next appointment at checkout.
Bring the results of any medical tests performed elsewhere.
Bring a list of your questions so we may discuss them with you.
Call to cancel or reschedule appointments as needed.
Bring a written list of current medications, including the name, strength and dosage frequency. If you prefer, you may bring your medication containers.
Contacting our office
To schedule or confirm a clinic appointment: 913-588-6820
To schedule or confirm a research appointment: 913-588-0080
For questions about your baclofen pump refill: 913-588-0080
For medication access questions: 913-278-8266
To speak with your nurse: 913-588-6970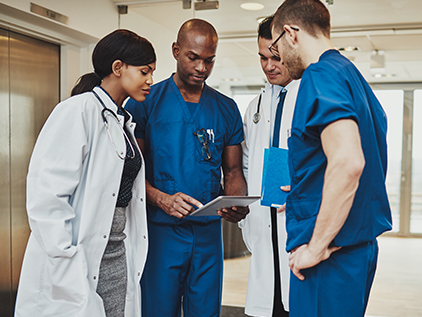 Leading research and clinical trials
As part of one of the nation's premier academic medical centers, our care providers are committed to research and scientific discovery through the University of Kansas Medical Center. We can often include our patients in potentially lifesaving clinical trials and treatment options not available anywhere else.
Our Research
Our experts
Learn more about our leaders in MS research and patient care.

Yasir N Jassam

Neurology

Locations:

Landon Center on Aging
3599 Rainbow Boulevard
Kansas City, KS 66103

Sharon G Lynch

Neurology

Locations:

Landon Center on Aging
3599 Rainbow Boulevard
Kansas City, KS 66103

Amanda J Thuringer

Neurology

Locations:

The University of Kansas Hospital
4000 Cambridge Street
Kansas City, KS 66160