Skip Navigation
Endocrinology is the specialty that cares for and treats conditions of the endocrine system – the glands and organs that regulate hormones. The endocrine system includes the hypothalamus, thyroid, adrenal gland, pituitary gland and pancreas. Physicians who specialize in this field are called endocrinologists. At The University of Kansas Health System in Kansas City, our team of endocrinologists ranks among the best specialty practices available.
The most common endocrine condition is diabetes. If you are dealing with diabetes or another chronic endocrinology issue, such as thyroid or adrenal disorders, bone metabolism or osteoporosis, or endocrine disorders related to fertility or reproduction, you can take confidence in our team. We have multidisciplinary programs dedicated to improving the treatment of conditions that result from disorders of the endocrine system. Our team of board-certified, fellowship-trained physicians and other providers treat a range of conditions, including adrenal, pituitary, thyroid and genetic disorders.
About endocrinology
Your endocrine system – and the hormones it releases – regulate many of your body's functions. Those hormones each have a particular job. Your hormones are chemical messengers that travel from one part of your body through your bloodstream to another part of your body. When one or more of the system's organs or glands isn't functioning properly, the system it regulates also won't function properly. Sometimes, your body can regulate and correct itself, but when it doesn't, you can rely on our specialists.
Your endocrine system regulates many processes, including:
Blood sugar control
Growth and development
Heart rate and blood pressure
Metabolism
Mood
Reproductive system
Sexual development and function
Endocrinology conditions and services
Our endocrinologists specialize in the treatment of disorders of the glands and hormones. They work closely with obstetrics and gynecology specialists in female reproductive care and urology specialists in male reproductive care. In addition, because of the multidisciplinary nature of our care teams, we provide the most comprehensive care for thyroid and pituitary gland conditions. Our endocrinologists work closely with thyroid surgeons and the pituitary neurosurgeon care team.
Our specialists provide extensive diabetes care and advanced care for patients with more complex cases of diabetes. In addition to diabetes, our subspecialists provide the most advanced treatments for osteoporosis and disorders of the thyroid and pituitary gland. Our endocrinology teams also maintain a partnership with the cystic fibrosis care teams in the health system.
Conditions our endocrinologists treat include:
Diabetes, especially those with type 1 diabetes making the transition from pediatric to adult care
Osteoporosis, including treatment of rare bone diseases
Pituitary disease, including pituitary surgery
Reduction of lipids for cardiovascular care
Thyroid disease, including long-term treatment after surgery for thyroid cancer
Our endocrinology services include several well-recognized specialty practices. For example, our American Diabetes Association-recognized Cray Diabetes Self-Management Center offers initial consultation, comprehensive care, empowering patients, healthcare providers and families by providing education and skills needed to successfully manage their diabetes. The academic, donor-funded center provides the following:
Certified diabetes care and education specialists who are registered nurses or registered dietitian nutritionists
Holistic care – patients are heard and understood in a safe, sensitive environment
Medical management – including the most innovative medications and low-cost alternatives
No referral required for physician consultation; streamlined referrals for diabetes education
Proven clinical success
Supplemental care to private-practice or primary care providers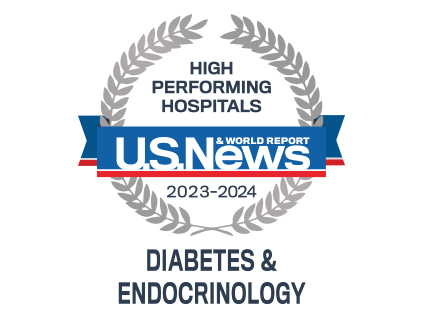 We believe patients come first
Why? Because we believe in providing exceptional care. We are honored to be the only hospital ever recognized by U.S. News & World Report as the best in Kansas and in Kansas City.
Read about this honor
Why choose us
At The University of Kansas Health System, our goal is to continually improve our knowledge and capabilities not only to advance new treatments but to find other ways to improve the lives of our patients. Because we're an academic medical center, patients who are treated here have more access to clinical trials and advanced medical treatments not available at other locations in the area.
Because we perform more pituitary and thyroid cancer surgeries than other hospitals in the area, our patients see consistently better outcomes. Our bone disease subspecialists also have rare bone disease expertise that may not be available elsewhere.
We are an American Diabetes Association-recognized center of excellence for diabetes treatment. In addition, our hospital and endocrinology programs have been recognized by U.S. News & World Report as high-ranking or as one of the Top 50 in the nation for the past 10 years.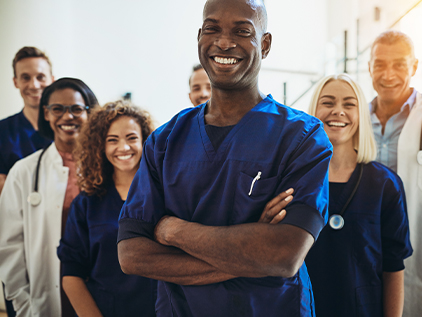 Find a doctor
Doctors at The University of Kansas Health System are care providers and researchers at the forefront of new medical discoveries. From primary care to complex conditions, we offer hundreds of specialists.
Find a doctor