Skip Navigation
If you are facing a chronic endocrinology issue, such as thyroid or adrenal disorder, bone metabolism or osteoporosis, diabetes or endocrine disorders related to reproduction, you can take confidence in the fact that our team ranks among the best specialty practices available.
We host numerous multidisciplinary programs dedicated to improving the treatment of the myriad of conditions that result from disorders of the endocrine system. In addition to the conditions mentioned above, our team of board-certified, fellowship-trained physicians and other providers treat a broad range of diagnoses, including adrenal, pituitary, ovarian, testicular and genetic disorders.
Specialty practices add highly focused expertise
The division also includes multiple well-recognized specialty practices. For example, our ADA-recognized Cray Diabetes Self-Management Center empowers patients, healthcare providers and families by providing education and skills needed to successfully manage their diabetes. Our osteoporosis specialists focus on advancing patient care, as well as research and understanding of bone and skeletal health.
Our goal is to continually improve our knowledge and capabilities not only to advance new treatments, but to also find other ways to improve the lives of our patients.
Reproductive endocrinology
All endocrine disorders related to reproduction or reproductive organs can be managed by our doctors, who have sub-specialty training in reproductive endocrinology. Common endocrine disorders treated include:
Polycystic ovarian syndrome, or PCOS
Endometriosis
Uterine anomalies
Uterine fibroids
Menstrual disorders
Adolescent gynecology
Hirsutism (excessive male pattern hair growth)
Hyperprolactinemia (elevation of prolactin hormone that is produced from pituitary gland in the brain)
Amenorrhea (no menstruation for more than 6 months)
Congenital anomalies of the reproductive organs
Premature ovarian failure (early menopause before the age of 40)
In addition, our laboratory offers endocrine services including:
beta-hCG (pregnancy determination and monitoring)
Estradiol (stimulation cycle monitoring and other diagnosis)
Follicle stimulating hormone (ovarian function, spermatogenesis)
Luteinizing hormone (ovulation monitoring, androgen production)
Progesterone (luteal phase monitoring)
Prolactin (pituitary function)
DHEA-S (adrenal function)
17-alpha hydroxyl progesterone (adrenal function)
Testosterone (gonadal function)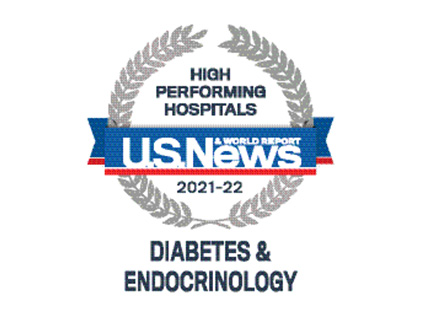 Recognized among the nation's best
U.S. News & World Report recognized our program as high performing in its 2021-22 Best Hospitals report. The honor places our care among the top 10% of diabetes and endocrinology programs evaluated. We are proud to provide you and your loved ones with nationally recognized care.
Read about this honor
Locations
1. Medical Pavilion

2000 Olathe Blvd
Level 5A
Kansas City, KS 66160

Mon

8 a.m. - 4:30 p.m.

Tues

8 a.m. - 4:30 p.m.

Wed

8 a.m. - 4:30 p.m.

Thur

8 a.m. - 4:30 p.m.

Fri

8 a.m. - 4:30 p.m.

Sat

Closed -

Sun

Closed -

2. Quivira Specialty Care

12000 W. 110th St.
Overland Park, KS 66210

Mon

8 a.m. - 4:30 p.m.

Tues

8 a.m. - 4:30 p.m.

Wed

8 a.m. - 4:30 p.m.

Thur

8 a.m. - 4:30 p.m.

Fri

8 a.m. - 4:30 p.m.

Sat

Closed -

Sun

Closed -

3. Englewood Center

101 NW Englewood Road
Suite 130
Gladstone, MO 64118

Mon

8 a.m. - 4:30 p.m.

Tues

8 a.m. - 4:30 p.m.

Wed

8 a.m. - 4:30 p.m.

Thur

8 a.m. - 4:30 p.m.

Fri

8 a.m. - 4:30 p.m.

Sat

Closed -

Sun

Closed -