Skip Navigation
What Sets Us Apart
We know you have options when it comes to finding the best care for heart disease in Kansas City. As the region's premier academic medical center, The University of Kansas Health System is a leading program for heart care. Our team of specialized physicians pioneers breakthrough treatments before they are available elsewhere. Our expert staff, advanced technologies, modern facilities and unique programs ensure you receive only the best, most effective care available. Our cardiac care team approaches heart care with compassion, innovation and integrity.
Our priority: People first
Maybe it's our Midwestern roots, but our priority is always people first. That means we care for you as a whole person, not a disease, and recommend only those treatments or procedures that will be most beneficial. Here, you are more than a patient – you are a partner in your healthcare. Your relationship with your heart care physicians and nurses doesn't end after you leave our facility. Through continuous care, you'll be supported, guided and empowered from your first visit to your follow-up appointments.
Care you can trust
Prioritizing your health means ensuring that you receive an accurate diagnosis, advanced treatment and continuous aftercare. That's why we've assembled a nationally recognized team of heart doctors and surgeons who are known for their expertise. Our cardiologists and cardiothoracic surgeons have more combined years of experience than any other heart care group in the region. They have developed new, minimally invasive procedures and surgeries that can reduce the need for complex surgery (although, they do that too). They are often the first in Kansas City to perform innovative new treatments for heart conditions such as:
Heart failure
Heart rhythm disorders
Coronary artery disease
Heart valve disease
Aortic aneurysms
Stronger together
Because we are an academic medical center, our patients benefit from collaboration among physicians. In addition to our renowned heart care physicians and surgeons, we have specialists in more than 200 fields. Their expertise may prove valuable in your diagnosis and recommended treatment plan.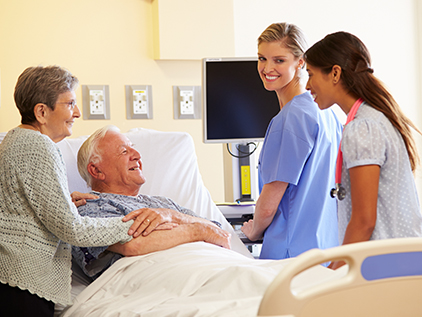 When a heart attack hits, come here first
People who come to The University of Kansas Health System during a heart attack are more likely to survive. Our survival rates far exceed the national average.
View our heart care services
Comprehensive Cardiac Center certification
The University of Kansas Health System is the first in the nation to receive Comprehensive Cardiac Center certification from The Joint Commission. This elite honor was developed to recognize hospitals that meet strict requirements across a range of standards, including patient care, hospital processes and patient outcomes, among others.
CCC certification reflects our commitment to providing the best care and highlights our comprehensive heart care services. It's one more way The University of Kansas Health System is leading the nation and putting patients first.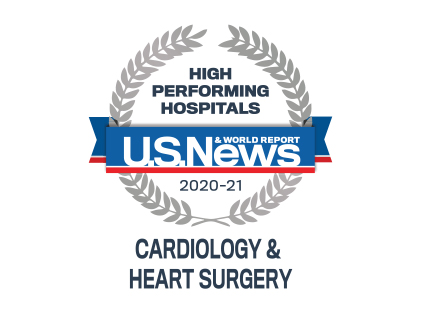 Recognized among the nation's best
U.S. News & World Report recognized our program as high performing in its 2020-21 Best Hospitals report. The honor places our care among the top 10% of cardiology and heart surgery programs evaluated. We are proud to provide you and your loved ones with nationally recognized care.
Read about this honor
Modern facilities and equipment
Our facilities feature some of the most modern, innovative equipment available today. This ensures the safety of your care and allows you to experience the best of what technology has to offer.
At the Lynn H. Kindred, MD, Cardiac Catheterization Labs, we provide minimally invasive, catheter-based procedures for a number of cardiac conditions.
We also have hybrid suites that can accommodate both minimally invasive procedures and complex surgeries. This prevents patients from having to be moved to another room in the event of a medical emergency and ensures fast, immediate care.
Our surgeons use endoscopic cameras for minimally invasive procedures for enhanced visualization of internal organs. This results in more precise surgical techniques and allows them to adapt to changes in real time.
Related links