Skip Navigation
Kidney Transplant Team
The hospital's multidisciplinary kidney team diagnoses, treats and manages care for patients with kidney disease and pancreas disorders.
Nationally recognized nephrologists, our kidney doctors provide comprehensive, compassionate care from your first referral through your kidney transplant and for the rest of your life.
Our transplant surgeons and nephrologists provide expert treatment for all types of kidney disease, pancreas disease and diseases that may damage those organs, including:
Diabetes
Hypertension
Urinary tract diseases
Congenital disorders and birth defects
Kidney tumors
Cystic fibrosis
Pancreatitis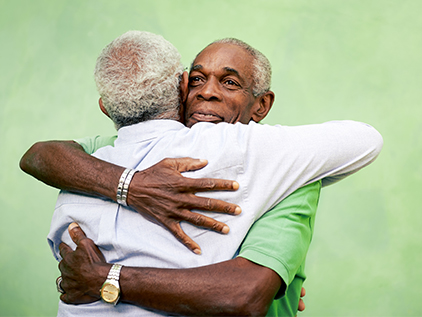 Living kidney donation is a gift of life
Almost 40% of kidney donors are living donors. Locating a living donor match can significantly shorten the wait time for a kidney transplant. Kidneys from living donors also typically function much longer with lower rejection rates than kidneys from deceased donors. Learn more about our
living kidney donor team
and the
process to donate
.
Schedule an Evaluation
Transplant success since 1969
We performed our first transplant in 1969 and our first simultaneous kidney-pancreas transplant in 1999. We are one of the few transplant programs in the U.S. to practice steroid minimization after patient discharge. Tapering off corticosteroids within 4 weeks after surgery reduces side effects such as diabetes, weight gain, osteoporosis, bone fractures and patient morbidity.
Kidney transplant patients often travel to our hospital from across the United States because we have above average survival rates.
Our doctors
Our kidney doctors, surgeons and transplant surgeons provide expert treatment for all types of kidney disease.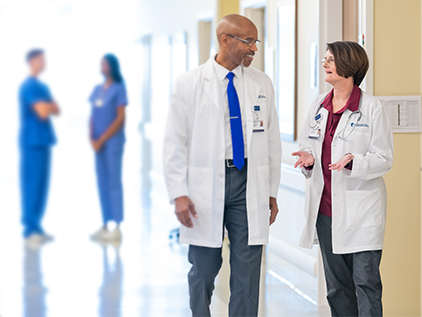 Meet our specialists
Our kidney transplant specialists are committed to providing you with personalized and compassionate care from your first evaluation through your kidney transplant and for the rest of your life. Team members include kidney transplant physicians, surgeons, nurses, psychologists, dietitians and other care staff.
You are the most important team member
You play a key role in ensuring your kidney transplant is a success. Be sure to take your medications, maintain a proper diet, exercise and notify your kidney transplant team of any problems.
Kidney transplant doctors
Our kidney doctors determine if you are a candidate for a kidney transplant. Our nationally recognized nephrologists monitor and manage all nonsurgical aspects of kidney care. Our transplant surgeons perform the operation and monitor your kidney's function, rejection and any surgical complications.
Anesthesiologists
These physicians monitor and manage recipients' life functions throughout the transplant process. They specialize in using drugs and other agents to relieve pain during and after surgery, including recovery.
Intensive care transplant nurses
These ICU nurses specialize in the care of transplant patients. They provide lifesaving support for any complicated transplant medical condition.
Non-ICU transplant nurses
After patients leave the transplant ICU, they receive care from specially trained transplant nurses. They provide care during most of your hospital stay.
Kidney transplant coordinators
Our transplant coordinators are specially trained registered nurses. They provide care in every phase of the transplant process, from evaluation to long-term follow-up. Coordinators prepare you for kidney transplant, schedule clinic visits, monitor test results and help you understand your medications. They are your primary contacts for any questions you and your family may have.
Financial coordinators
One of our financial coordinators will advise you of your financial options for covering the cost of kidney transplantation. He or she will help determine what part of your kidney transplant surgery, medications and care are covered by Medicare, Medicaid or private insurance. The financial coordinator also can help you find other financial assistance resources if needed.
Social workers
Our social workers are licensed professionals who provide counseling and support to you and your family. They help you understand and cope with your condition and the kidney transplant process. Social workers also can help with emotional or family issues you may have.
They will determine if you have a qualified caregiver and appropriate family support. They can provide information on community resources such as support groups, as well as transportation and lodging if you or your family members need a place to stay overnight during treatment.
Psychologists
Our psychologists provide counseling and therapy to help you and your family cope with the stresses associated with chronic disease and kidney transplant. Services include individual and family therapy, stress management training, depression counseling and addiction counseling.
Pharmacists
Our pharmacists instruct you and your family about your medications before and after transplantation and assist with your daily medication schedule.
Dietitians
Our registered dietitians help you manage your nutrition before and after your kidney transplant. The dietitian will assess your nutrition, make recommendations for your diet and provide help with decreased appetite, weight loss, nausea and vomiting.
Kidney transplant surgeons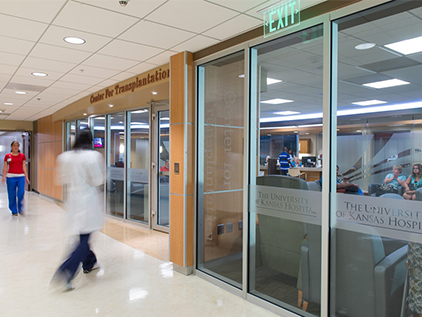 Expanding organ transplant program to reflect patient needs
In early 2015, a clinic opened in Wichita offering something unique to the area: an easier connection to The University of Kansas Hospital's kidney transplant experts.
Learn more about our Wichita Clinic
Related links