Skip Navigation
COVID-19, the disease caused by the novel coronavirus, can result in many different types of symptoms. The virus can have a long incubation period, meaning you may experience symptoms 2-14 days following your exposure. Many COVID-19 symptoms are similar to symptoms of common colds or allergies. It is possible to be infected without developing symptoms and unknowingly shed disease, possibly infecting others. Once infected, a person may begin spreading disease in their droplets up to 48 hours before exhibiting symptoms.
Depending on the severity of illness, treatment for COVID-19 can include emergency, hospital-based or outpatient treatment, as well as self-care at home. Additionally, some people may require medications such as monoclonal antibody treatment.
The University of Kansas Health System offers several resources to help you answer commonly asked questions, gain an overview of testing, be aware of health system protocols and more.
Who can have COVID-19 treatment?
COVID-19 is a highly contagious disease. Anyone can be infected and anyone can be treated, whether younger or older, healthy or not. You could be at higher risk of becoming ill and experiencing disease complications if you:
Are not vaccinated, including recommended booster(s)
Are older
Have existing health conditions, like heart, lung, liver or kidney disease
Have a weakened immune system or a blood disorder
Are obese or have diabetes
Are pregnant or recently pregnant
COVID-19 does not discriminate. If eligible, get your primary vaccination series and booster to reduce your risk of severe disease and death.
How does COVID-19 treatment work?
Treatment depends on the severity of illness. If you are feeling sick, you can screen yourself for possible COVID-19 by considering whether, in the last 3 days, you have experienced:
Temperature above 100.0°F
Cough, shortness of breath or chest tightness
Sore throat
Diarrhea, vomiting or abdominal pain
Loss of sense of taste or smell
Muscle aches or chills
Runny nose or sneezing
Persistent headache
Close contact with someone who received a positive COVID-19 test in the last 14 days
If you answer yes to any of these, you may have COVID-19. Call your primary care provider's office or set up an urgent care video visit with the health system's urgent care team. Sign in to your MyChart account and choose Urgent Care Video Visit to begin the process.
If you have already received a positive COVID-19 test, you should communicate with your healthcare team. If you do not have a primary care provider, we can help. You are strongly encouraged to begin and maintain care with a primary care physician if you have any of the following conditions and are being tested for COVID-19: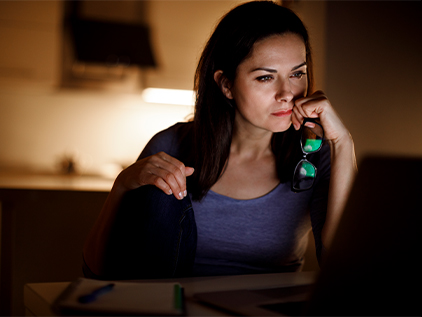 I have COVID-19. Now what?
Here are some of the answers you're looking for and guidance on what to do next.
Next steps
What are the types of COVID-19 treatment?
Most people who have COVID-19 will be able to recover safely at home without seeking medical care. Rest, fluids and pain and fever reducers will ease symptoms.
For those who need to seek medical care, this care can span:
Emergency treatment
Hospital-based treatments
Outpatient treatments
What is post-COVID-19 symptom management?
For many people, a full recovery from COVID-19 can take weeks or months. Some of the disease's symptoms can affect your body for a very long time. If you experience symptoms for 3-12 weeks after the initial infection, doctors call this condition post-acute COVID-19. If you have symptoms for more than 12 weeks after the initial infection, doctors call this condition chronic COVID-19.
You may commonly hear people with post-acute or chronic COVID-19 called long-haulers, and you may hear these persistent symptoms called long-haul symptoms. These symptoms can include:
Chest tightness
Cognitive issues or brain fog (confusion, short-term memory loss, difficulty concentrating)
Continued loss of smell or taste
Depression or anxiety
Fatigue
Headaches
Malaise (a vague feeling of unwellness)
Myalgia (muscle aches and pains)
Palpitations
Shortness of breath
Tiredness or aggravation of symptoms following exertion, even mild exertion
If you have questions about post-COVID-19 symptom management, contact your primary care provider.
Why choose us for COVID-19 treatment
As part of the region's premier academic medical center, our specialists collaborate in multidisciplinary teams to deliver complete care. Care teams for COVID-19 patients may include experts in internal medicine, family medicine, emergency medicine, respiratory care, infectious disease management and more.
Our infection prevention and control team has the know-how and experience to keep patients, visitors and staff safe even while treating contagious conditions. These skilled professionals consistently establish and evolve safety measures in keeping with new discoveries and information related to COVID-19.
In partnership with the University of Kansas Medical Center, our physicians regularly develop, lead and participate in clinical trials, advancing new treatments and bringing expanded options to our patients. COVID-19 is no exception.