Skip Navigation
Hand and Upper Extremity Surgery
Hand and Upper Extremity Surgery
If you're experiencing pain in your hand, wrist, elbow or shoulder, even everyday tasks like brushing your teeth can be difficult.
Our interdisciplinary team includes specialists such as general surgeons, reconstructive surgeons, board-certified orthopedists and plastic surgeons who have also received advanced fellowship training and are dedicated to the care and treatment of the broad range of conditions that can affect your hands or upper extremities. We also provide nonsurgical treatments.
What is hand and upper extremity surgery?
Hand and upper extremity surgery incorporates the most advanced surgical techniques, including highly complex reconstructive procedures, such as joint replacements in the elbow and shoulder and microsurgical nerve reconstructions.
Our team addresses diverse needs in hand and upper extremity conditions, striving to reduce pain, build strength and increase function through a complete range of treatments and surgeries.
Same-day care available for orthopedic injuries
We offer walk-in care for acute orthopedic injuries such as fractures, strains and sprains in Overland Park. Walk-in hours are weekdays 8 a.m.-7 p.m. and Saturdays 8 a.m.-2 p.m.
Learn more
Who can have hand and upper extremity surgery?
Hand and upper extremity surgery can help those who suffer from:
Arthritis of the hand and wrist
Carpal tunnel syndrome
Chronic or degenerative conditions, such as arthritis, bursitis or tendonitis
Common wear-and-tear conditions brought on by aging or overuse
De Quervain syndrome
Dupuytren's disease
Fractures and tendon injuries to the hand and upper extremity
Ganglion cysts and hand tumors
Hand, wrist and upper extremity injury
Injuries to the hand, wrist, forearm, elbow and shoulder
Joint replacement
Nerve palsy
Raynaud's disease
Sports-related injuries, including those to pitchers and other throwing athletes
Tendonitis
Thumb pain
Trigger finger
How does hand and upper extremity surgery work?
From amputation and partial amputation to other complex traumas, our surgeons bring deep experience to restore hand and upper extremity function as well as appearance while optimizing quality of life.
In addition to providing rapid response to emergent needs, our physicians address elective surgical interventions ranging from carpal tunnel release to joint replacement to nerve reconstruction and more.
As a national leader in hand and upper extremity care and nerve reconstruction, we are a healthcare destination for elective surgical intervention. We do not require referrals, though we are happy to accept them if patients need them for insurance coverage. We welcome secondary consultations.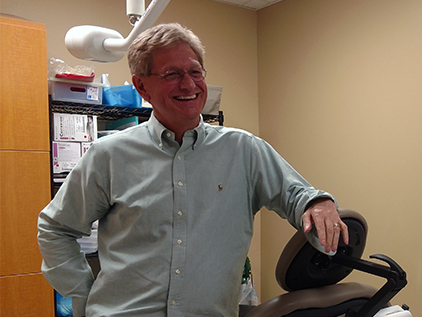 Almost an amputee
One wrong move while working alone on a home improvement project, and Steve Pelegrin found himself fighting for his life and for his hand. Quick thinking on his part plus advanced microsurgery care saved both.
Read Steve's story
Benefits and risks of hand and upper extremity surgery
Your doctor will only recommend surgery if the potential for quality of life improvements outweigh the potential risks. Risks associated with hand and upper extremity surgery are similar to those of other major surgery, including bleeding, blood clots, delayed healing or infection. If the desired results are not achieved, additional procedures may be required in some cases.
What happens during hand and upper extremity surgery?
The specifics of your surgery will vary depending on the condition being treated. Your doctor will give you detailed information on what to expect before, during and after your procedure.
Common hand, wrist and upper extremity procedures we perform include:
Arthroscopy – wrist, elbow, shoulder
Carpal tunnel release
Elbow reconstruction
Free tissue transfer
Joint aspiration and injection
Nerve decompression
Nerve repair
Reconstructive surgery
Replantation
Rotator cuff repair
Shoulder reconstruction
Wide-awake hand surgery
Following your surgery, our expert and experienced hand therapists greatly improve recovery. Our hand therapists hold advanced certifications and have many years of experience treating a variety of common and complex hand conditions.
Why choose us for hand and upper extremity surgery
The University of Kansas Health System offers some of the nation's leading experts in complex and delicate surgical procedures for the hand and upper extremities. Our Kansas City plastic surgeons and orthopedic surgeons have completed the highest levels of specialty training and have experience second to none.
Our advanced specialists are board-certified and have completed fellowships – the most advanced medical training – earning certificates of added qualifications (CAQ) for hand surgery. As part of the multidisciplinary care team at our Level I Trauma Center – the only 1 in our region as verified by the American College of Surgeons – these physicians stand ready to provide advanced care for the most traumatic cases.