December 30, 2019
At The University of Kansas Health System, plastic surgeon Ravi Garg, MD, performs craniomaxillofacial surgery procedures to correct conditions related to the head, face, skull and neck, including the following 10 you may not have known about:
If you cannot tolerate your continuous positive airway pressure equipment, our doctors can treat your sleep apnea by advancing the upper and lower jaws to make more room for airflow in your throat.

If you have a problem with your jaw alignment, our experts can reposition your jaws to help you eat, speak and breathe better.

If you've noticed swelling in your jaw that's related to a tumor or your dentist found a tumor in your jaw bone, we can remove the tumor and reconstruct your jaw.

We treat children and adults with speech, jaw, nasal or breathing concerns related to a cleft or craniofacial difference.

If you can't breathe through your nose and nasal decongestants are not helping, or if you have previously broken your nose, we can correct the structure of your nose to help you breathe better.

If you cannot move part of your face due to previous trauma, a tumor or a condition you were born with, we can help restore movement to your face.

To repair a temporomandibular joint that is worn down or missing, we offer replacement options. Repairing this joint, which connects to the jaw, relieves pain and restores function.

If you are missing skin, muscle, nerves or bones around your face, we can replace these missing tissues using various surgical techniques. These include microsurgical reconstruction to help improve your facial and dental function.

We can repair broken facial bones to help them heal.

We can help remove skin cancers around your head and neck or reconstruct wounds after the cancer has been removed.
Why choose us
We offer the region's largest team of surgeons who specialize in craniomaxillofacial surgery.
We provide our surgical procedures at the No. 1 hospital in Kansas according to U.S. News & World Report.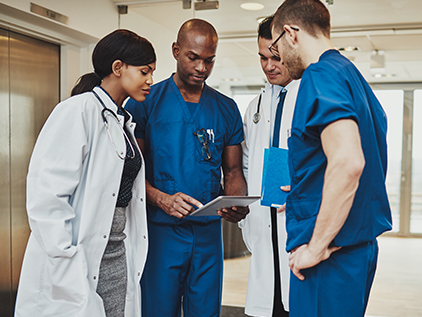 Leading research and clinical trials
As part of one of the nation's premier academic medical centers, our care providers are committed to research and scientific discovery through the University of Kansas Medical Center. We can often include our patients in potentially lifesaving clinical trials and treatment options not available anywhere else.
Our Research