Skip Navigation
Advancing Academic Medicine in Kansas City
The history of The University of Kansas Health System is a tale of triumph. From humble beginnings on Goat Hill in the small town of Rosedale, now part of Kansas City, Kansas, we have evolved into a destination academic health system sought out by patients and top-notch medical professionals from around the country. Our reputation as the region's premier academic medical center was hard-earned through a collective vision and commitment to unmatched patient care.
Hospital origins
With his donation of land in 1905, Simeon Bell, MD, set the stage for academic medicine in Kansas City and the region. His gift led to the establishment of a hospital founded in 1906 as part of the University of Kansas School of Medicine. The first hospital was quickly outgrown, so a new Bell Hospital opened in 1911, still on Goat Hill, and almost doubled the capacity of its predecessor. By 1924, the hospital had outgrown its space again, so a new hospital was built on a site near the health system's current main campus, about a mile south of Goat Hill, near West 39th Avenue and Rainbow Boulevard in Kansas City.
The hospital marked an important milestone in 1998 when it became an independent hospital authority, receiving no state funding and no longer part of the School of Medicine. The hospital's official name became The University of Kansas Hospital.
Nearly 20 years later, another milestone occurred. The University of Kansas Hospital joined with the University of Kansas Physicians in 2017 to form The University of Kansas Health System.
In 1998, the journey began. Watch how we've evolved over the past 2 decades.
Bob Hemenway: I'm Bob Hemenway, the chancellor of the University of Kansas. The legislature passed legislation which enables The Kansas University Hospital to become a public authority.
Speaker 2: We're thankful to have so many who are expressing an interest in what we do think is a very significant and an historic event.
Speaker 3: I'm thrilled to let you know that we're designating The University of Kansas Hospital in Kansas City, Kansas as a Magnet [inaudible 00:00:58].
Speaker 4: The University of Kansas Hospital is a Magnet organization again.
Speaker 5: This is your fourth designation. Congratulations.
Speaker 6: You are the best of the best in your profession, and this entire organization appreciates each and every one of you.
Speaker 7: They'll do measurements of your arms.
Annette Bloch: I am so proud to announce that I'm giving a donation of 20 million dollars.
Speaker 9: Long stride.
Speaker 10: Two, one.
Speaker 11: Set. Hut! There you go. I like it.
Speaker 12: On behalf of The University of Kansas Health System, we are honored to be the official healthcare provider of the Kansas City Chiefs, and we are humbled to be the beneficiary of tonight's 101 dinner.
Speaker 13: The Sunderland Foundation board approved a grant to complete the three floors in the Cambridge North Tower for 66 million dollars.
Speaker 14: It was 20 years ago on this very day, at this very time that the hospital authority was born.
Speaker 15: It really is an exciting day for KU today. We're really thrilled to be here to announce Kansas Team Health. This collaboration really positions KU and Kansas athletics to be leaders in this area nationally.
Speaker 16: Later today, we're going to be making the announcement of our intention to build the region's first proton therapy center.
Speaker 17: Three, two, one. Woo!
This shall be a place where the people of Kansas and areas surrounding may enjoy the best medical care available anywhere. – Simeon Bishop Bell, MD
Hospital milestones
Level 1 Trauma Center is verified

We provide the region's only nationally verified Level 1 trauma center, ensuring the highest quality care for trauma victims.

World-class cardiac care program is established

Teams of renowned cardiologists and cardiothoracic surgeons, known at the time as Mid-America Cardiology and MidAmerica Thoracic and Cardiovascular Surgeons, join the hospital to establish a world-class comprehensive cardiac care program for patients throughout the region. The Center for Advanced Heart Care later opens in 2006.

Hospital earns Magnet® designation

This recognition, provided by the American Nurses Credentialing Center's Magnet Recognition Program, indicates high-quality patient care and nursing excellence. The hospital was the first Kansas-based facility to achieve this accreditation. The hospital would earn redesignation in 2011, 2016 and 2021.

U.S. News & World Report names us one of the nation's best hospitals

The magazine lists us among the nation's top 50 hospitals for adult care in multiple medical and surgical specialties. We are also named the No. 1 hospital in Kansas City, the region and the state of Kansas. We have made the Best Hospitals list every year since 2007.

Westwood, Kansas, outpatient cancer care facility opens

A $20 million gift from Annette Bloch enhances patient care programs, and the facility is named the Richard and Annette Bloch Cancer Care Pavilion.

The University of Kansas Cancer Center acquires Kansas City Cancer Center

This adds multiple cancer center locations to communities throughout the region and establishes an unprecedented approach to cancer prevention, diagnosis, treatment and survivorship, while serving as a national model for cancer care delivery.

Hospital becomes the official healthcare provider of the Kansas City Royals

In 2012, the hospital becomes the official healthcare provider of the Kansas City Chiefs.

The University of Kansas Cancer Center earns National Cancer Institute designation

Only 71 cancer centers in the nation are NCI-designated. The cancer center would renew its designation in 2017.

Hospital earns Advanced Comprehensive Stroke Center designation

The hospital is the first in Kansas City to earn this designation for high-quality stroke care.

Indian Creek Campus opens

Hospital and clinic locations in Johnson County, Kansas, help meet increased demand for conveniently located care from surgeons and other specialists.

Turning Point joins The University of Kansas Hospital

This community resource focuses on the emotional, social and psychological needs of people dealing with serious or chronic illnesses.

Center for Transplantation opens

The center provides comprehensive care for liver, kidney, pancreas and heart transplant patients in one location.

The Kansas Heart and Stroke Collaborative is established

The University of Kansas Hospital establishes the program after receiving a $12.5 million grant. Originally aimed at improving prevention and treatment of heart disease and stroke in Kansas, the Care Collaborative, as it's now known, has expanded its focus to include improvements in sepsis, trauma and palliative care.

Expanded behavioral healthcare services

The hospital expands its behavioral healthcare services through new hospital locations at Marillac, which serves children and adolescents, and KVC Health Systems, which serves adults.

Blood and marrow transplant program performs first bone marrow transplant in an adult Kansas woman to cure sickle cell disease

The region's largest blood and marrow transplant program, established in 1977, offers lifesaving procedures for leukemia, lymphoma and other blood cancers.

First in the nation to achieve Comprehensive Cardiac Center (CCC) certification

CCC certification honors heart programs with a comprehensive approach to care and a commitment to excellence, along with a dedication to continuous improvement.

The University of Kansas Hospital and The University of Kansas Physicians combine to form The University of Kansas Health System

By pooling the collective knowledge and resources of our physicians and staff, we are able to better meet the needs of the communities we serve.

Cambridge Tower A opens

Cambridge Tower A is an expansion on the main campus of The University of Kansas Health System, featuring 92 private rooms and 11 state-of-the-art surgical suites.

Achieved Vizient's 2017 Bernard A. Birnbaum, MD, Quality Leadership Award

The award recognizes high performance in the areas of safety, timeliness, effectiveness, efficiency, equity and patient-centeredness.

The University of Kansas Health System acquires St. Francis Health

The now-St. Francis Campus, acquired in a partnership with Ardent Health Services, helps enhance healthcare delivery in the Topeka area.

The University of Kansas Health System becomes a founding member of Centrus Health

Along with North Kansas City Hospital and Shawnee Mission Health, this clinically integrated network focuses on transforming healthcare by improving outcomes at a lower cost through the physician-led network of choice. Today, the effort includes more than 1,650 physicians.

The University of Kansas Health System partners with Vibrant Health to support Federally Qualified Health Centers in Wyandotte County

These centers provide essential primary care to underserved communities.

The University of Kansas Health System announces Strawberry Hill Campus

The facility in Kansas City, Kansas, opens in 2019. It is the home of the health system's expanded mental and behavioral health program.

Great Bend Regional Hospital becomes The University of Kansas Health System Great Bend Campus

Affiliated clinics, Central Kansas Family Practice and Heartland Regional, also join the health system.

The University of Kansas Health System announces region's first proton therapy

Proton therapy is a highly specialized, state-of-the-art form of radiation treatment and will be offered through The University of Kansas Cancer Center. The proton therapy center opened on the health system's main campus in Kansas City in 2022.

The University of Kansas Health System responds to COVID-19 pandemic

The University of Kansas Health System quickly adapts our services and treatments to meet rapidly changing protocols during the pandemic. Hundreds of health system employees take on temporary but mission-critical roles to staff swab clinics, man screening stations, and answer hotline calls. Our lab team develops an in-house test that can detect COVID-19.

The health system makes the transition to telehealth to make sure patients get the care they need. The move to telehealth had been planned for a 2-year rollout but happens in just 2 weeks. The implementation team connects providers with patients by Zoom, all while patients are able to remain safe at home.

As questions about the virus and preventing illness increase, Steve Stites, MD, chief medical officer, and Dana Hawkinson, MD, medical director of infection prevention and control, offer daily briefings for the news media. These briefings become popular Facebook Live forums, drawing viewers from around the world and becomes the "Morning Medical Update."

As shortages of personal protective equipment continue, the health system partners with Kansas City business leaders to source and secure needed healthcare supplies in support of the region's COVID-19 response.

The University of Kansas Health System reaches 5,000 organ transplants

The health system's first organ transplant, performed in 1969, was a kidney transplant and the system's 5,000th organ transplant was also a kidney transplant. Our transplant teams have performed more than 3,000 kidney transplants, more than 1,700 liver transplants and more than 130 heart transplants.

Fourth consecutive Magnet® designation achieved in midst of pandemic

After receiving the hospital's 1st Magnet designation in 2006, the health system's Kansas City division achieves its 4th consecutive designation in September 2021. Only about 9% of hospitals nationwide attain Magnet designation and less than 2% of U.S. hospitals have received the designation 4 or more times.

Patient care program for blood cancers and immunotherapy expands

The December 2021 opening of levels 8, 9 and 10 in Cambridge Tower A on the main campus in Kansas City adds 100 rooms for patients. Eighty-four of these beds are designated specifically for cancer care, with levels 9 and 10 dedicated for patients who have leukemia, lymphoma and other blood cancers, and those who are receiving immunotherapy treatments.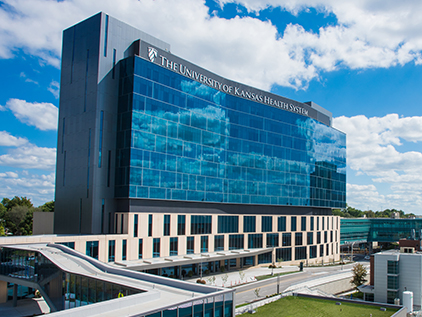 A legacy of excellence
Our reputation as the region's premier academic health system was hard-earned, making each achievement that much more meaningful. Today, we are consistently ranked among the nation's top hospitals and academic medical centers in the country.
Our accomplishments
Related links