Skip Navigation
Reimagining Healthcare in Kansas and Beyond
As part of the region's premier academic medical center, we take our responsibility to provide the best care for Kansans very seriously. As we reimagine healthcare for Kansas City, our region and beyond, we strive to create innovative ways to give citizens access to nationally ranked care close to home.
We embraced this mission in 1998 when The University of Kansas Hospital began as an independent authority. We have driven progress for more than 2 decades and have no plans to stop.
Our steadfast commitment to healthcare excellence has earned our health system accolades that inspire confidence in patients and their loved ones. You have choices when evaluating healthcare options. These distinctions can help you determine which hospitals provide the best care for routine and serious or complex conditions.
Our recognition includes:
Earned 4 consecutive Magnet designations from the American Nurses Accrediting Center for nursing excellence. Fewer than 9% of U.S. hospitals have attained Magnet designation, and far fewer have earned it 4 times.
Recognized as a Leader in LGBTQ+ Healthcare Equality by the Human Rights Campaign. Our health system is 1 of 495 healthcare facilities in the nation to earn Leader status.
While we appreciate these honors, they don't mean our work is finished. In fact, they signify a journey that is only beginning. They underscore our position and charge to extend leading academic medicine across the state of Kansas – and beyond.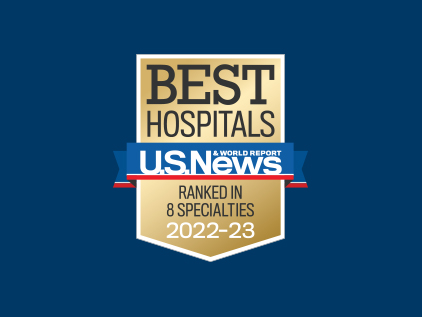 We believe patients come first
We start by putting patients first and it shows. Once again, U.S. News & World Report recognized our hospital as the best in Kansas City and in Kansas. We are the only hospital ever to hold these honors. U.S. News also ranked 8 of our specialties among the nation's best.
Read about this honor
Innovative care delivery
Technology enables our providers to deliver care by innovative means. Some of our specialists provide telehealth care, connecting with patients in other locations to address conditions including ALS, behavioral health and heart failure.
Many of our physicians devote time to traveling to partner sites throughout Kansas, providing high-quality, convenient care to local residents.
And, through initiatives such as our Care Collaborative, our teams share education and guidance with peers in rural communities throughout Kansas. They extend proven care protocols and evidence-based best practices to support teams in providing the best care for time-critical diagnoses, including:
STEMI
Stroke
Sepsis
Heart failure
Trauma
These efforts, and many others, underscore our commitment to caring for Kansans. We believe everyone in Kansas deserves access to nationally ranked care. We are dedicated to applying technology and collaborating with peers throughout the state to continue making this vision a reality.
A commitment to collaboration
We believe strongly in the power of teams to provide patients with complete, comprehensive, advanced healthcare. We collaborate with peers throughout our community to ensure Kansans benefit from the best available protocols and knowledge.
One example of our collaborative style is the Masonic Cancer Alliance (MCA). The MCA is the outreach network of The University of Kansas Cancer Center. It is a membership-based organization that partners with cancer research, care and support professionals to promote cancer prevention, detection, treatment and survivorship in our area and region. Members receive second opinion and consultation services, outreach programs, continuing education opportunities and patient navigation support.
These represent just a few examples of our commitment and drive to reimagine healthcare for all those who rely on us and deserve the best.
Related links