Skip Navigation
Hand and Upper Extremity Plastic Surgery
Hand and Upper Extremity Plastic Surgery
The University of Kansas Physicians offers some of the nation's leading experts in complex and delicate surgical procedures for the hand and upper extremities. Our plastic surgeons in Kansas City have completed the highest levels of specialty training and have built experience second to none.
Our advanced specialists are board-certified and have completed fellowships – the most advanced medical training – earning certificates of added qualifications (CAQ) for hand surgery. As part of the multidisciplinary care team at our Level I Trauma Center – the only one in our region as verified by the American College of Surgeons – these physicians stand ready to provide advanced care for the most traumatic cases. From amputation and partial amputation to other complex traumas, our surgeons bring deep experience to restore hand and upper extremity function and optimize quality of life.
In addition to providing rapid response to emergent needs, our physicians address elective surgical interventions ranging from carpal tunnel release to joint replacement to nerve reconstruction and more.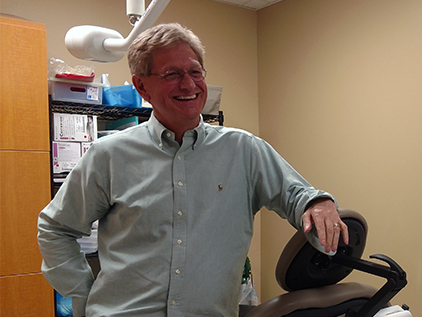 Rapid action and expert care save arm
One wrong move while working alone on a home improvement project, and Steve Pelegrin found himself fighting for his life and for his hand. Quick thinking on his part plus advanced microsurgery care saved both.
Read Steve's story
Plastic surgery services
Our team addresses diverse needs in hand and upper extremity conditions, striving to reduce pain, build strength and increase function through a complete range of treatments and surgeries. We offer experience in and treatment options for:
Arthritis of the hand and wrist
Carpal tunnel syndrome
De Quervain syndrome
Dupuytren's disease
Ganglion cysts and hand tumors
Hand, wrist and upper extremity injury
Joint replacement
Nerve palsy
Raynaud's disease
Tendonitis
Thumb pain
Trigger finger
As a national leader in hand and upper extremity care and nerve reconstruction, we are a healthcare destination for elective surgical intervention. We do not require referrals, though are happy to accept them if patients need them for insurance coverage. We welcome secondary consultations.
Expert care for rheumatoid arthritis
The University of Kansas Health System offers comprehensive care for rheumatoid arthritis. In addition to rheumatologists, our collaborative care team includes specialists who can treat joint problems as well as specialists who can address related conditions in other parts of the body.
Learn more
Our experts
Learn more about our qualified, capable and compassionate hand and upper extremity experts.
Wojciech H Przylecki

Hand Surgery

Locations:

The University of Kansas Hospital
4000 Cambridge Street
Kansas City, KS 66160

Clinical Focus:

Hand Surgery
Plastic Surgery
A multidisciplinary approach
The University of Kansas Physicians complement our own specialty skills with those of our colleagues. We work as a collaborative, multidisciplinary team to ensure our patients receive complete, coordinated care. In hand and upper extremity care, this includes access to certified hand therapists, whose expertise is critical in guiding patients through exercises deemed beneficial to either avoid or recover from surgical procedures.
Offering the experience, facility, microscope and specially trained technicians represents a differentiating combination. Our team is uniquely qualified and equipped to successfully perform the most intricate microsurgical procedures.