Skip Navigation
The University of Kansas Hospital/The Women's Cancer Center in Overland Park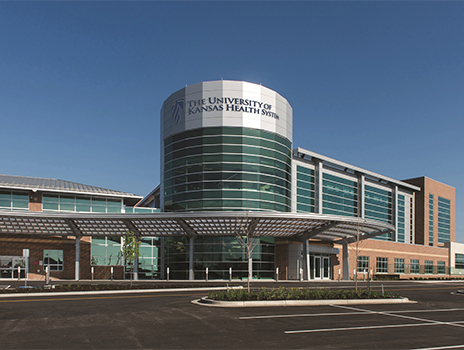 Welcome
The University of Kansas Health System Indian Creek Campus features The University of Kansas Hospital in Overland Park as well as the Women's Cancer Center. Here, we bring the power of academic medicine to Overland Park, Kansas. Our expanded hospital and our surrounding clinics offer leading healthcare services in numerous specialties.
Our state-of-the-art facility features:
More than 122,000 square feet of space
34 private patient rooms
24 clinic exam rooms
8 operating rooms
24-bed prep/recovery area
Expanded imaging, breast imaging and interventional radiology services
For the comfort and convenience of patients and visitors, we offer a full-service café and The Roasterie. A pharmacy is also located on site.
Locations
1. The University of Kansas Hospital/The Women's Cancer Center

10710 Nall Ave.
Overland Park, KS 66211

2. Medical Pavilion

10730 Nall Ave.
Overland Park, KS 66211

3. Executive Health and Metabolic and Bariatric Care

10700 Nall Ave.
Overland Park, KS 66211

4. Ambulatory Surgery Center

10720 Nall Ave.
Overland Park, KS 66211
Directions and parking
Directions
Take I-435 to Nall Avenue, exit 77B. Go north to 107th Street. Turn left onto 107th Street. Turn left at the first entrance. Follow signage to the hospital (10710 Nall Ave.) or clinics (10730 Nall Ave.). There is plentiful free parking.
Parking
Plentiful complimentary parking is just steps away from the front door, located on the south side of the building.
Physician clinics
Marc A. Asher, MD, Comprehensive Spine Center
10730 Nall Ave., Suite 101
Comprehensive care from our multidisciplinary team provides relief and support for patients suffering from back pain and spinal disorders.
Sports Medicine and Performance Center
10730 Nall Ave., Suite 200
Sports medicine specialists provide advanced surgical and nonsurgical treatments for all types of sports injuries to athletes of all ages.
10730 Nall Ave., Suite 201
Complete treatment, care and follow-up program for patients with bone and soft tissue tumors and tumor-like conditions.
Medical services
Bone cancer surgery
Breast imaging
Breast surgery
Ear, nose and throat surgery
General surgery
GI endoscopy
Gynecologic surgery
Interventional radiology
Neurosurgery
Orthopedic surgery
Pain management
Plastic surgery
Surgical oncology
Urology
Features and amenities
Complete diagnostic imaging capabilities, including the full-body 3.0 Tesla MRI, CT, fluoroscopy, ultrasound and digital X-ray
20 pre- and post-operative rooms
7 state-of-the-art operating rooms
19 private inpatient rooms
10 short-stay rooms
Convenient location off I-435 at the Nall Avenue exit
Easily accessible complimentary parking
Nearby physician clinics offering high-quality, advanced care for the entire family
A plentiful selection of restaurants, hotels, shops and services within close proximity
Neighborhood amenities
The area has much to offer, including hotels, restaurants and pharmacies, all within easy driving distance. Many are located at the Metcalf Avenue (169 Highway) exit off I-435, 1 exit west of the Nall Avenue exit. The nearby Town Center Plaza and upscale shopping and dining.
Family or friends planning a hotel stay should mention the reason when making reservations. Many nearby hotels will offer a discounted medical rate upon request.