Skip Navigation
Dementia can occur with several different diseases. It refers to symptoms that affect memory, thinking and social abilities severely enough to interfere with daily functioning. Once thought to be a normal effect of aging, dementia is now known to be caused by brain cell damage.
The University of Kansas Health System provides dementia screening and treatment options for people in the Kansas City region and beyond. Our skilled professionals focus on accurately diagnosing dementia and its cause. We provide treatment to control symptoms and slow progression of the disease.
What is dementia?
Dementia is not a specific disease. Instead, it refers to a combination of conditions that impair normal brain functions like memory and judgment. One of the most common forms of dementia is Alzheimer's disease, but there are many additional forms of dementia. Our neurology team can help determine the precise causes of dementia in older adults.
Dementia symptoms and risks
Common indicators of dementia include:
Changes in behavior and personality
Difficulty completing familiar tasks
Difficulty with planning, organizing or concentrating
Language problems, such as struggling to get words out or understand spoken words
Memory loss
There are several factors that can increase your risk of developing dementia:
Age
Family history of dementia
High cholesterol levels
Smoking and alcohol use
Dementia diagnosis and screening
Properly diagnosing dementia and the type of dementia is challenging. Doctors need to identify the particular pattern of memory loss and cognitive decline. Some types of dementia, like Alzheimer's, have certain biomarkers (measurable signs) that help doctors make a more accurate diagnosis.
A dementia diagnosis begins with a complete medical history and symptom review. Your doctor will ask questions about daily life and will likely also interview a person close to you as well, such as a spouse or other caregiver. Your doctor may also ask you to take tests that measure certain thinking and memory skills.
In some cases, your doctor may request additional tests and scans:
A PET scan can show the presence of certain protein deposits in the brain that are associated with Alzheimer's disease
Lab tests to check for a vitamin deficiency or underlying health conditions that could affect cognitive ability, such as a urinary tract infection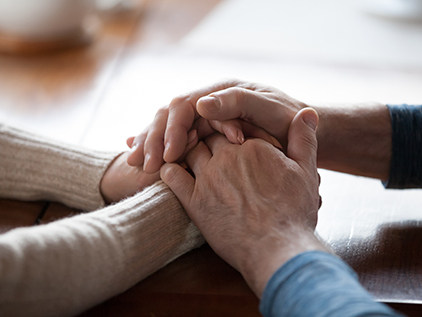 Support for caregivers
Coping with the impact of dementia can be as hard on caregivers as on patients. We offer events and seminars to help caregivers learn how to approach daily care for loved ones with dementia. We share ideas on how to alter your communications to remain patient and reduce frustration while supporting your loved one.
Get empowered
Dementia treatment
Dementia, unfortunately, cannot be cured. But there are treatments that help people manage dementia symptoms and optimize their quality of life:
Medications that ease mood, behavior and sleep challenges
Physical and mental exercises
Social stimulation
Why choose us for dementia treatment
In partnership with the University of Kansas Medical Center, we are one of only 32 nationally designated Alzheimer's disease centers in the nation.
Several of our neurologists focus solely on dementia and memory disorders and offer expertise second to none. In addition to leading the field in patient care, these specialists conduct innovative research that may one day yield a cure.
To help patients in all aspects of coping with dementia, we partner with Turning Point to assist patients and families in managing challenges associated with dementia.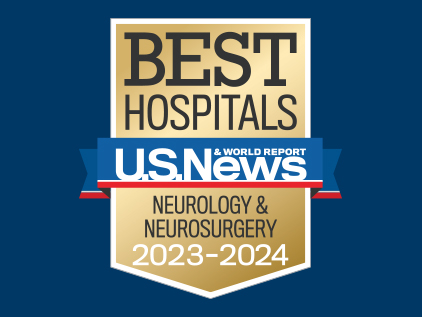 We believe patients come first
We start by putting patients first and it shows. Our program ranked No. 25 among the nation's best in U.S. News & World Report's Best Hospitals 2023-24. Rankings are based on measurable achievements in quality, safety, nursing excellence and more.
Read about this honor
Specialized care for cognitive disorders
Diagnosis of a cognitive impairment can bring up questions and uncertainty. Our Cognitive Care Network, in partnership with the University of Kansas Alzheimer's Disease Center, provides education and support for individuals and families living with this diagnosis. We know it's important to diagnose mild cognitive impairment (MCI), Alzheimer's disease and other dementias early. This helps the person diagnosed, family members and providers work together to support wellness and positive changes. Our interdisciplinary team's health empowerment model aids understanding and management of these cognitive changes.
Call us at 913-945-7310 more information.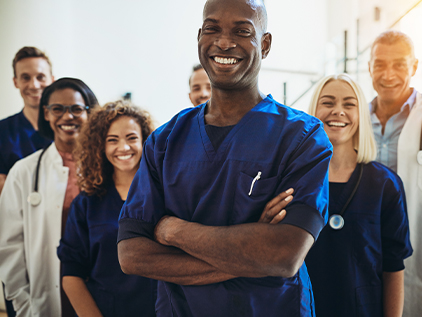 Find a doctor
Doctors at The University of Kansas Health System are care providers and researchers at the forefront of new medical discoveries. From primary care to complex conditions, we offer hundreds of specialists.
Find a doctor