Skip Navigation
If you have lost a massive amount of weight, you may struggle with discomfort, hygiene issues and finding clothing that fits. In this case, you can turn to our plastic surgery team to undergo a body lift, also known as belt lipectomy, to correct the excess skin.
Extensive surgical procedure to remove excess skin from the lower body
Performed after a massive weight loss (50% of body weight lost)
Designed to improve comfort and hygiene
Would a body lift be right for me?
After losing an exceeding amount of weight (often after bariatric surgery - gastric band or gastric bypass), you may now struggle with a large amount of excess skin on the midsection, thighs, buttocks, hips and abdomen and may choose to undergo a body lift. Not only will this further slenderize the body, but it will also remove skin folds, which can cause hygiene issues, as well as aesthetic concerns.
In order to be considered for a body lift, you should be at a stable body weight and be able to maintain a healthy lifestyle.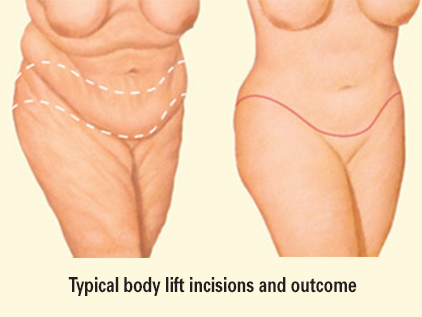 How is a body lift performed?
Your plastic surgeon will mark incision sites, which will be placed in the natural folds of the skin, where they can be hidden if possible. After the incisions are made, the excess skin is lifted and removed and liposuction is performed for contouring. Antibiotics will be administered both before and after the surgery.
Learn more about Liposuction
What can I expect after a body lift?
Body lift surgery is an extensive operation, so you should expect a recovery period of 4-6 weeks. You will likely be on bed rest for the first 24 hours. On the second day, you may be advised to walk with assistance. Any drains to collect fluid will be removed after about a week. Your plastic surgeon will provide compression garments to aid in healing and promote skin contraction; these need to be worn for about 6 weeks.
Possible complications associated with this major surgery may include seroma, infection, delayed healing, scarring and DVT.
If you have lost a massive amount of weight through conventional methods or bariatric surgery, you are encouraged to learn more about body lift procedures by contacting us.