Skip Navigation
Body Lift
If you have lost a significant amount of weight, you may struggle with overhanging skin that causes discomfort, hygiene issues or rashes. Although it's normal to have sagging skin after dramatic weight loss, it can negatively impact your quality of life and make your weight loss results less visible.
At The University of Kansas Health System, our specialists offer a body lift, also known as belt lipectomy, to remove excess skin and create a more flattering figure.
What is a body lift?
Body lift surgery is an extensive surgical procedure to remove excess skin from the lower body, which cannot be improved by either diet or exercise. A body lift can be performed after massive weight loss (50% of body weight lost) to improve both comfort and hygiene. It's common to get body lift surgery once weight has stabilized following bariatric weight loss surgery.
Who can have a body lift?
If you have lost a lot of weight and have a large amount of excess skin on the midsection, thighs, buttocks, hips and abdomen, you may be a candidate for a body lift. In order to be considered for body lift surgery, you should be at a stable body weight and be able to maintain a healthy lifestyle.
How does a body lift work?
A body lift addresses multiple areas of the lower body to improve the overall shape and tone of your natural contours. Your plastic surgeon will remove the excess skin and fatty tissue that has remained after weight loss. In some cases, your surgeon may also use liposuction to remove localized fat deposits. However, liposuction alone can't improve the appearance of drooping or saggy skin.
A body lift can be performed in a single surgery, or scheduled as multiple separate procedures. Your plastic surgeon will talk with you about which approach is right for you.
Benefits and risks of body lift surgery
Not only can body lift surgery further slenderize the body to make weight loss more visible, but it will also remove skin folds. This can make exercising more comfortable so that you can continue your weight loss journey.
Possible complications associated with surgery include seroma (fluid buildup), infection, delayed healing, scarring and deep vein thrombosis. These risks are minimized by choosing a qualified surgeon.
What happens during a body lift?
Your plastic surgeon will mark incision sites, which will be placed in the natural folds of the skin where they can be as hidden as possible. After the incisions are made, the excess skin is lifted and removed and liposuction is performed for contouring. Antibiotics will be administered both before and after the surgery.
Single-procedure body lift surgery is an extensive operation, so you should expect a recovery period of 4-6 weeks. You will likely be on bed rest for the first 24 hours. On the 2nd day, you may be advised to walk with assistance. Any drains to collect fluid will be removed after about a week. Your plastic surgeon will provide compression garments to aid in healing and promote skin contraction; these need to be worn for about 6 weeks.

Still the best
Our hospital continues to rank as the best in Kansas City and in Kansas according to U.S. News & World Report.

Magnet-recognized
The University of Kansas Hospital has been designated a Magnet® facility by the American Nurses Credentialing Center since 2006.

Respect for all people
Named a leader in LGBTQ+ Healthcare Equality by the Human Rights Campaign.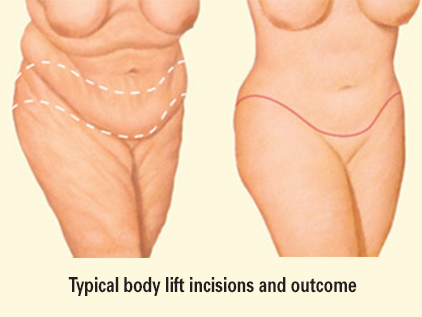 Results of a lower body lift
A lower body lift can remove hanging, excess skin after massive weight loss. After surgery, your body will look smoother and more sculpted. Additional procedures, such as breast augmentation, may be used to enhance your results.
See more procedures
Related links