Skip Navigation
Cancer and its treatments can take their toll on your physical and mental well-being. Treating the symptoms of a debilitating illness such as cancer is only half the battle in your recovery process. Helping cancer patients cope with these changes is the job of cancer rehabilitation specialists.
Whether you're just beginning cancer treatment or you're a 20-year survivor, we will work with you and your cancer specialist to improve function and decrease pain so you can focus on restoring your health. The University of Kansas Cancer Center offers comprehensive cancer treatment, which includes a range of cancer rehabilitation services. Our caring specialists understand that a cancer diagnosis and treatment greatly affect your quality of life.
What is cancer rehabilitation?
Cancer rehabilitation evaluates and treats the neuromuscular, musculoskeletal and functional complications that may arise as a result of cancer and cancer treatment. These complications may include:
Contractures
Deconditioning
Fatigue
Gait disorders
Muscle spasms
Myopathy
Neuropathy
Radiation fibrosis
Spinal cord injury
Swallowing disorders and chewing problems
Weakness
Our multidisciplinary team of medical professionals is comprised of various specialists to support your rehabilitation. Much of the physical rehabilitation is overseen by a physiatrist who helps restore mobility, motor skills and organ function. A physiatrist is a physical medicine and rehabilitation (PM&R) doctor who specializes in treating medical conditions affecting the brain, nervous system and skeletal muscular system.
Who can have cancer rehabilitation?
Cancer rehabilitation is available to every cancer patient. The specific therapeutic treatments are determined by the type of cancer and its severity. Though not all the same, all cancer patients will have the option of cancer rehabilitation as part of their treatment plan.
The forms of cancer rehabilitation a patient receives can be quite different, though all share some common elements. Some people will require palliative care, while others may require occupational therapy. There is a wide range of treatments and therapies that can significantly improve the quality of life for cancer survivors.
Many people also benefit from the emotional and spiritual support offered through both 1-on-1 and group therapy. Counseling and supportive interaction with other cancer survivors is a crucial part of a cancer rehabilitation program.
How does cancer rehabilitation work?
Treatment plans typically include the best combination of treatment options available to create a personalized plan of care. Collaboration with a team of specialists is common in order to deliver the most efficient, effective treatment. Your treatment plan may include:
Assistive devices
Joint and soft tissue injections
Medications
Orthotics
Patient education
Physical, occupational and/or lymphedema therapy
Prosthetics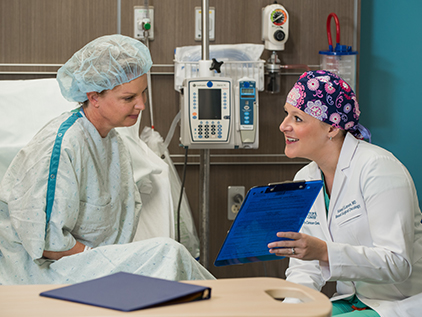 Cancer care you can count on
The University of Kansas Health System is part of The University of Kansas Cancer Center – 1 of fewer than 60 NCI-designated comprehensive cancer centers in the nation.
Our cancer care
Benefits of cancer rehabilitation
Improving the quality of life for each cancer patient is the ultimate goal of cancer rehabilitation treatments and therapies. Other benefits include:
Improved mobility
Mental and emotional well-being
Restoration of bodily functions
Our rehabilitation experts specialize in restoring your quality of life and helping you get back to normal.
What happens during cancer rehabilitation?
Based on the condition experienced as a result of cancer, a treatment is devised to address the specific ways the disease has impacted your life. This can take many different forms, from counseling to a prosthetic fitting.
Pain intervention is an important part of virtually every cancer treatment plan. Before cancer surgery, chemotherapy or other intensive treatments begin, cancer care specialists establish your baseline pain threshold. This allows an objective measurement of pain during and after cancer treatment.

Still the best
Our hospital continues to rank as the best in Kansas City and in Kansas according to U.S. News & World Report.

Magnet-recognized
The University of Kansas Hospital has been designated a Magnet® facility by the American Nurses Credentialing Center since 2006.

Respect for all people
Named a leader in LGBTQ+ Healthcare Equality by the Human Rights Campaign.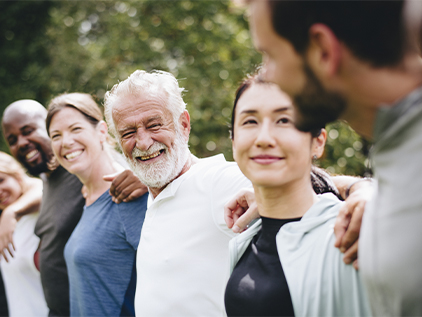 Turning Point
Turning Point offers free classes, programs and tools designed to empower and educate people affected by chronic or serious illness.
Learn more about our services