Skip Navigation
Military Training Program
Military Training Program
The University of Kansas Health System offers a military training program like few others in the nation. In partnership with the Kansas Air National Guard and Kansas Army National Guard, our staff provides emergency, trauma, burn and critical care training to help servicemen and servicewomen build lifesaving medical skills before deploying.
The military training program began in 2008 with informal education to support a single National Guard unit. It has expanded into a full-fledged, comprehensive training partnership that allows more military medics to receive ongoing training at the health system.
Training opportunities in the military partnership include:
Our military partnership program ensures military medics receive in-hospital clinical training through interaction with physicians, nurses and other healthcare professionals. Training includes classroom education, hands-on simulation and a cadaver skills lab for a comprehensive experience of diverse learning styles and strategies. Receiving the education in a hospital environment helps military medics better prepare to treat the injuries they might encounter in combat or a disaster.
In addition to arming military forces with healthcare experience that could save lives in the field, the military partnership helps forge community relationships valuable to response efforts in the event of a state or national disaster.
Health system leaders value this community outreach and recognize the training's benefit to military medical personnel. Many of our instructors, including physicians and nurses, volunteer their time to teach. The military training program is provided free of charge and receives no state or federal funding.
As such, we rely upon the generous support of donors for the resources we need to sustain the military partnership program. We are thankful to those whose gifts provide us with resources including:
Building and training space
Medical supplies, such as tourniquets, hemorrhage control kits, splits, braces and more
Simulator training mannequins
Shelters and wall kits, to simulate lifelike training scenarios
Medical supply storage units
Thank you for considering making a gift to support this important program.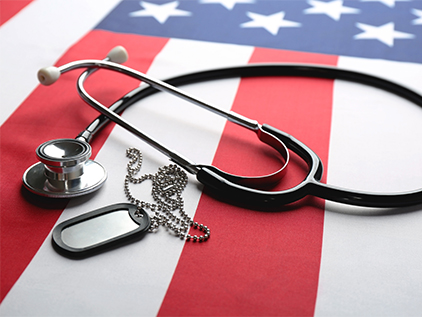 Kansas military medics rely on us. Help us support them.
Your generous gifts help us sustain important programs like our military training. Learn more about the program's needs.
Make a gift
Our health system's hands-on approach is leading the way in the training of military medics. The ability to work alongside civilian healthcare partners and learn from them is of great benefit to the medics serving in our National Guards. – Penny Glenn, MSN, RN

Educational specialist in nursing practice, research and professional development, and a major in the Kansas Air National Guard
Related links