Skip Navigation
Bronchiectasis is a chronic lung condition that damages the bronchial tubes of your lungs, affecting air flow. The effects of bronchiectasis cause flareups that can leave you short of breath, and lead to other long-term health concerns.
Specialists at The University of Kansas Health System have collaborated to form a dedicated bronchiectasis care team. Our experts work together to provide you with advanced care that includes specialized evaluations, support groups and access to new research studies so that you can manage the symptoms of bronchiectasis and enjoy a more normal daily life.
What is bronchiectasis?
Bronchiectasis causes damage to the major airways in the lungs, permanently widening them. This type of damage in your airways makes them less able to effectively remove mucus, which increases the risk for serious infection. Frequent lung infections and airway blockages are both common in bronchiectasis.
Because the lungs cannot function properly, flare-ups are one of the main concerns of bronchiectasis. During a flare-up, or exacerbation, it's hard to catch your breath.
Types of bronchiectasis
Since bronchiectasis can be caused by cystic fibrosis, bronchiectasis is usually categorized as either cystic fibrosis bronchiectasis (CFB) or non-cystic fibrosis bronchiectasis (NCFB).
Bronchiectasis symptoms and risks
The most common symptoms of bronchiectasis include:
A chronic cough that typically produces large amounts of mucus
Chest pain
Clubbing (thickening of the skin under your nails)
Shortness of breath
Wheezing or whistling sounds when you breathe
The chances of developing bronchiectasis increase if you have a related lung condition, like COPD. Recurring pneumonia can also put you at risk for developing bronchiectasis. Additional risk factors for getting bronchiectasis include:
Allergic bronchopulmonary aspergillosis (an allergic reaction to a fungus called aspergillus)
Cystic fibrosis
Immunodeficiency and auto-immune disorders
Lung infections or injuries
Bronchiectasis diagnosis and screening
To diagnose bronchiectasis, your doctor will start by taking a complete medical history. Your doctor will also look for underlying conditions that could be responsible for your bronchiectasis symptoms, which can look similar to other disorders.
Test your doctor may use to confirm a bronchiectasis diagnosis include: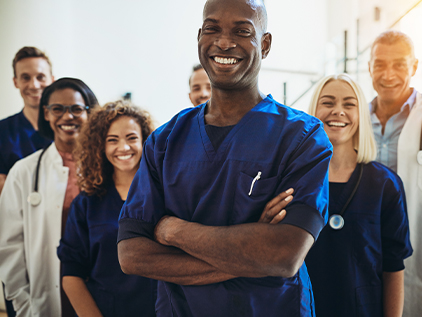 Find a doctor
Doctors at The University of Kansas Health System are care providers and researchers at the forefront of new medical discoveries. From primary care to complex conditions, we offer hundreds of specialists.
Find a doctor
Bronchiectasis treatment
Bronchiectasis is a chronic, progressive condition. There is no cure, so treatments focus on symptom management and improving overall quality of life. If symptoms of bronchiectasis are caused by an underlying condition, then that condition requires treatment first.
Treatment options for bronchiectasis include:
Antibiotic medications to treat infections
Anti-inflammatory medications
Medications that thin mucus and help make your coughs more productive
Physical removal of mucus or blockages
Your doctor will also recommend different treatment approaches for managing exacerbated symptoms during a flare-up compared to daily maintenance of symptoms.

Still the best
Our hospital continues to rank as the best in Kansas City and in Kansas according to U.S. News & World Report.

Magnet-recognized
The University of Kansas Hospital has been designated a Magnet® facility by the American Nurses Credentialing Center since 2006.

Respect for all people
Named a leader in LGBTQ+ Healthcare Equality by the Human Rights Campaign.