Skip Navigation
Nontuberculous Mycobacterial (NTM) Lung Disease
Nontuberculous Mycobacterial (NTM) Lung Disease
Nontuberculous mycobacterial (NTM) lung disease occurs when a person is internally infected with mycobacteria, causing scarring and damage to their lung tissue. The severity of this disease can range from mild to life-threatening. However, unlike mycobacterial infections that cause tuberculosis, nontuberculous mycobacterial lung disease is not contagious.
The doctors at The University of Kansas Health System take a multidisciplinary approach to treating this condition. Experts in pulmonary medicine, critical care, radiology, pathology and other disciplines and specialties work together to offer each person care and treatment for NTM lung disease that puts their quality of life first.
What is nontuberculous mycobacterial lung disease?
Mycobacteria are tiny germs that exist throughout the environment in the soil, on plants, on animals and in the dust we breathe. These germs are not generally harmful, but when they find their way into a vulnerable person's body, they can cause serious infection within the lungs.
Nontuberculous mycobacteria are differentiated from other, more dangerous forms of mycobacteria like those that cause tuberculosis or leprosy. Although NTM can be dangerous to vulnerable individuals, it is not contagious and can be treated with antibiotics and lung therapy.
Nontuberculous mycobacterial lung disease symptoms and risks
Because of their prevalence in the environment, most people ingest and interact with mycobacteria on a daily basis. NTM lung disease is only a concern for those with impaired or damaged lungs and/or compromised immune systems, as these conditions can allow mycobacteria to gain a foothold in a person's body.
Because NTM targets the lungs, infected patients may experience fainting, lightheadedness or difficulty breathing. Common symptoms of NTM infection include:
Fatigue
Shortness of breath
Fainting or frequently "spacing out"
Coughing up blood
Unexplained weight loss
Fever
Night sweats
Although NTM infections are often mild, they can be difficult to diagnose. Severe or prolonged NTM infections can result in scarring of lung tissue and chronic lung disease.
Those most at risk for NTM are typically people who already have impaired lung function:
People with damaged lungs from diseases such as cystic fibrosis, silicosis or chronic obstructive pulmonary disease (COPD)
Those with a weakened immune system, which includes autoimmune disorders and those who are taking immune suppressing medications
Those who are 65 years old and older
Daily activities can also increase the likelihood of exposure to nontuberculous mycobacteria. Regularly digging in soil and stirring up dust can increase a person's likelihood of infection.
Nontuberculous mycobacterial lung disease diagnosis and screening
A diagnosis of NTM can be difficult as its characteristic signs and symptoms are nonspecific and vary from person to person. A diagnosis of NTM means the doctor must first rule out other lung diseases such as tuberculosis or lung cancer.
When diagnosing the presence of NTM, doctors typically begin with a clinical examination. They gather information about your home and work environment, and perform physical tests to check breathing.
X-rays and CT scans of the chest area are also common screening techniques for NTM. Radiologists create detailed scans of the lungs that help detect the presence of NTM.
Samples of saliva or sputum coughed up from the lungs are also examined in a laboratory to check for the presence of mycobacteria. This test may be repeated multiple times over separate visits to ensure accurate results.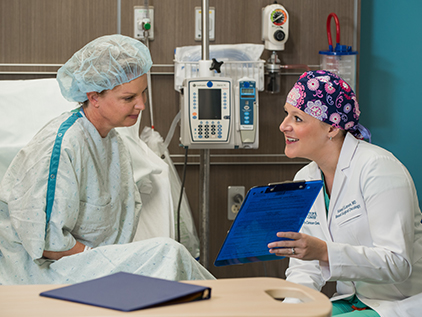 Cancer care you can count on
The University of Kansas Health System is part of The University of Kansas Cancer Center – 1 of just 71 NCI-designated cancer centers in the nation.
Our cancer care
Nontuberculous mycobacterial lung disease treatment
Treatment of NTM varies from person to person, and will depend on the type of mycobacteria causing the infection as well as your medical history. In some mild cases, the infection may not grow and treatment is not necessary. In more serious cases, you may be prescribed antibiotics tailored to the mycobacteria present. You will be required to take the medication for several months.
In some cases, surgical intervention may be an option. In all cases, however, it is important for people with a diagnosis of nontuberculous mycobacterial lung disease to keep their lungs healthy. Exercise, regular immunizations, a good diet and not smoking or vaping are key parts of managing NTM.

Still the best
Our hospital continues to rank as the best in Kansas City and in Kansas according to U.S. News & World Report.

Magnet-recognized
The University of Kansas Hospital has been designated a Magnet® facility by the American Nurses Credentialing Center since 2006.

Respect for all people
Named a leader in LGBTQ+ Healthcare Equality by the Human Rights Campaign.