Skip Navigation
Transplant is a treatment option for some patients with type 1 diabetes. Our hospital is the only facility in the region that performs liver, kidney and pancreas transplants.
Pancreas transplant patients choose The University of Kansas Hospital because of our reputation, excellent patient outcomes and our commitment to compassionate patient care.
We performed our first kidney transplant in 1969 and our first simultaneous kidney-pancreas transplant in 1999.
Patients receive expert, compassionate care
Our multidisciplinary pancreas transplant team thoroughly evaluates your condition to determine your best treatment option.
If a pancreas transplant is the right treatment for you, our pancreas specialists will provide comprehensive care and education, from your first evaluation through your pancreas transplant and for the rest of your life.
You can request a transplant evaluation
You or your doctor can request a pancreas transplant evaluation. One of our nurse coordinators will contact you to schedule your initial visit. You'll meet with a multidisciplinary pancreas transplant team that will thoroughly assess your overall physical and psychological condition to determine your best treatment option.
Request an evaluation
913-588-1227
Toll free 844-323-1227
Organ donors save lives
Learn why organ donation is an important part of our pancreas transplant program and how you can become a donor.
Expertise in all types of pancreas transplant
A pancreas transplant normally takes 4-6 hours – more time than kidney transplants. Patients who have had previous surgeries may remain in surgery longer. The donated pancreas is placed in the abdomen and connected to the blood vessels. Your original pancreas usually remains in place.
The level of pancreas disease determines the type of pancreas transplant. There are three types of pancreas transplant.
Simultaneous pancreas and kidney
This type of transplant is for patients with diabetes and end-stage renal disease. Most pancreas transplants, and typically the most successful, are performed when the patient receives a kidney transplant.
Pancreas after kidney
This option is for patients who have already received a kidney transplant and continue to have worsening complications with diabetes. It's the second most common type of pancreas transplant.
Pancreas transplant
This transplant is for patients with severe type 1 diabetes who are at high risk for serious complications such as blindness, heart disease and stroke.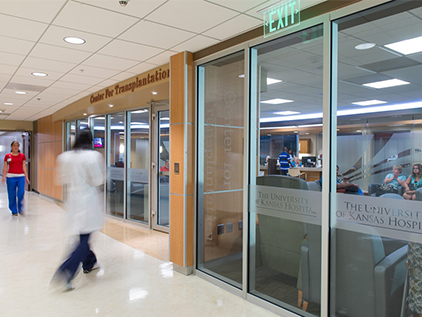 The Center for Transplantation
at The University of Kansas Hospital has performed more pancreas and kidney/pancreas transplants than any other hospital in the region.*
*Source: UNOS, Transplants by Donor Type, Center, U.S. Transplants performed Jan. 1, 1988 - Mar. 31, 2014, For Organ = Kidney/Pancreas AND For Organ = Pancreas, Area = Region 8