Skip Navigation
Hypertension, or high blood pressure, is a risk factor for heart disease and the most important risk factor for stroke. When your blood pressure is high, it means your heart is working harder to pump blood to your organs. If left untreated, this added strain can cause damage to the heart and arteries, resulting in serious damage.
The University of Kansas Health System offers specialized services for people with hypertension in Kansas City. Our team of specialists works to diagnose all the possible causes of your hypertension and develop the most effective treatment plan.
If you have uncontrolled blood pressure, your heart health is at risk.
About hypertension
About 1 in 3 U.S. adults has hypertension. When left untreated, hypertension can lead to heart attack, stroke, heart failure and kidney failure. Controlling your blood pressure is the best way to prevent these outcomes.
Hypertension is referred to as "resistant" or "complex" when you are not able to control it with 3 or more medications at the right dosage. Up to 1 in 5 people with hypertension has a resistant form. Their risk for significant complications is much higher than for those who are able to control their blood pressure.
Risks and symptoms
Many factors can contribute to hypertension. Among the factors are:
Diet issues
Family history
Diabetes
Endocrine problems
Fibromuscular dysplasia
Obesity
Obstructive sleep apnea
Hardening of arteries
Problems with the kidneys and their arteries
Unfortunately, hypertension sometimes goes undetected because the condition is often symptomless. Those who do experience signs of hypertension may complain of:
Shortness of breath
Fainting or dizziness
Fatigue
Fast heartbeat
Chest pain or pressure
Blue lips or fingernails
Swelling of the legs or ankles
Pain in the upper-right abdomen
Diagnosis and treatment
Hypertension can be diagnosed by taking your blood pressure. A blood pressure reading measures 2 things: systolic pressure and diastolic pressure. Systolic refers to the maximum pressure in your heartbeats. Diastolic pressure refers to the lowest pressure in your arteries between heartbeats. Typically, a person under age 60 who has 3 blood pressure readings of 140/90 is said to have hypertension. For people over 60, a reading of 150/90 qualifies as high blood pressure.
Treatment for your hypertension depends on the cause(s). It may include:
Treating the underlying conditions that are causing your hypertension
Managing your diet
Changing your medications
Adjusting your lifestyle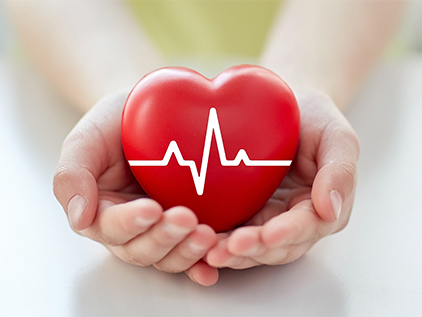 Learn your risk
Heart disease affects more people each year than all cancers combined, yet many think they aren't at risk. Take our online heart health assessment to learn your risk.
Take the Quiz
Why choose us
The University of Kansas Health System is a leader in the prevention and treatment of heart disease. Our experienced physicians, leading-edge technologies and exceptional facilities are some of the reasons why our quality outcomes are among the best in the country. To put it simply: more people who come here live.
Leaders in prevention and treatment

Our risk reduction services are devoted to helping people take control of their heart health.

We participate in a variety of clinical trials to improve prevention and treatment of heart disease.

Our partners at the University of Kansas Medical Center are known for innovative research on heart disease.

We offer a dedicated vascular ultrasound laboratory.

Our advanced MRI and CT angiography provide more detailed images for better detection and accurate diagnosis.

Our hybrid suites accommodate both minimally invasive procedures and complex surgeries. This eliminates the need to move patients to another room in the event of a medical emergency and ensures immediate care.
Quality of care
People who come to us after a heart attack are more likely to survive.
Our interventional specialists open blocked arteries faster than national standards.
Our patients experience fewer complications than the national average.
Although we take care of sicker patients, our mortality rate for heart attack patients is better than the national standard.
What to expect
As our patient, you'll have access to all the health professionals you need in a single place. A nurse will talk with you and gather your past test results before your first visit. If you need more tests, we will order them ahead of time, so our doctors will have the information they need to begin your diagnosis and treatment. The test requested may include drawing blood, ordering imaging tests for your heart and kidneys or asking you to wear a continuous blood pressure monitor.
A team of healthcare experts will look into the many possible causes of your hypertension. This team includes a vascular physician, a nephrologist (kidney doctor), a dietitian, a pharmacist and a nurse practitioner. Other specialists such as endocrinologists and vascular surgeons are also available to help. They work together to identify the causes, treat them and adjust your medications.
Once we have diagnosed your condition and recommended treatment, you will go back to your primary doctor for ongoing care.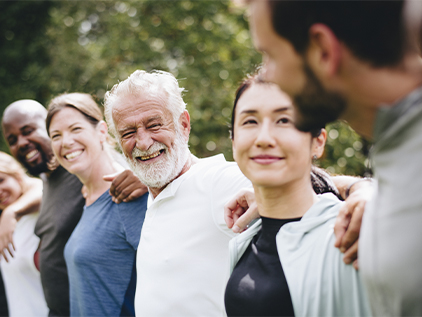 Turning Point
Turning Point offers free classes, programs and tools designed to empower and educate people affected by chronic or serious illness.
Learn more about our services