Skip Navigation
Stroke and Brain Injury Rehabilitation
Stroke and Brain Injury Rehabilitation
An individual who has suffered a stroke or traumatic brain injury needs care both in the short- and long-term.
Our stroke rehabilitation program addresses physical, cognitive and overall functional recovery in both inpatient and outpatient settings.
Multidisciplinary specialists – including physical therapists, occupational therapists, speech language pathologists, rehabilitation nurses, rehabilitation neuropsychologists as well as rehabilitation medicine physicians – work together to provide an individualized treatment plan.
Our goal is to improve quality of life by working to restore a range of daily living function, including:
Mobility
Speech
Swallowing
Independence in activities
Inpatient stroke rehabilitation
The inpatient acute rehabilitation facility provides interdisciplinary rehabilitation care to patients immediately after hospitalization for acute ischemic or hemorrhagic stroke.
This modern facility features 29 upscale private patient rooms along with a wide range of patient amenities:
Fully equipped gym
Large showers in each room to accommodate wheelchairs and shower chair
Therapeutic kitchen and laundry to help patients prepare for self-care at home
Rooftop terrace for outdoor rehabilitation activities
We use the latest technology for advancement of function after stroke:
The Bioness® Vector Gait and Safety System for dynamic body weight support
Dynavision® to address visual impairments
Armeo® Therapy for upper extremity weakness and coordination
All of our therapists are trained to use state-of-the-art equipment and techniques.
Outpatient stroke rehabilitation
Upon discharge from inpatient treatment, outpatient services can help ensure a safe transition to home and continued functional recovery.
Rehabilitation medicine physicians provide specialized outpatient rehabilitation follow-up and continued therapies to treat post-stroke disabilities at our clinic in the Marc A. Asher, MD, Comprehensive Spine Center. These services may include:
Continued rehabilitation programs
Orthosis prescription
The management of spasticity, or muscle stiffness
You can rely on our teams of highly trained specialists to help you regain your function, mobility and independence. Please contact us to learn more or schedule a tour.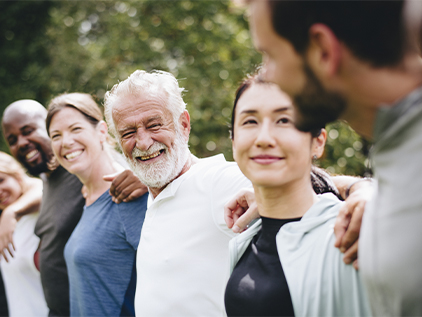 Turning Point
Turning Point offers free classes, programs and tools designed to empower and educate people affected by chronic or serious illness.
Learn more about our services