Skip Navigation
Stroke and Brain Injury Rehabilitation
Stroke and Brain Injury Rehabilitation
People who have suffered a stroke or traumatic brain injury need care both in the short- and long-term. Stroke and brain injury rehabilitation can be included as part of an overall treatment plan to help speed recovery as well as improve your quality of life. At The University of Kansas Health System, our stroke rehabilitation program addresses physical, cognitive and overall functional recovery in both inpatient and outpatient settings.
What is stroke and brain injury rehabilitation?
The goal of neurorehabilitation is to retrain your brain so you can relearn skills affected by your stroke or brain injury. Because a stroke or brain injury affects each individual differently, rehabilitation specifics vary widely.
Multidisciplinary specialists – including physical therapists, occupational therapists, speech language pathologists, rehabilitation nurses, rehabilitation neuropsychologists as well as physical medicine and rehabilitation physicians – work together to provide an individualized treatment plan.
Our goal is to improve quality of life by working to restore a range of daily living functions:
Mobility
Speech
Swallowing
Independence in activities
Who can have stroke and brain injury rehabilitation?
Anyone who struggles with daily living and everyday tasks following a stroke or brain injury can benefit from rehabilitation services. Rehabilitation after stroke or brain injury is an important part of the recovery journey.
How does stroke and brain injury rehabilitation work?
Creating a rehabilitation program is an individualized process that's customized to each person, depending on the way their stroke or brain injury has affected them. Services typically include a combination of both cognitive and physical rehabilitation exercises. Starting rehabilitation soon after a stroke or brain injury occurs is integral to regaining a maximum level of independence.
Most people start out receiving inpatient rehabilitation services. Then, as their symptoms improve, they can transition back to living independently while continuing with outpatient stroke rehabilitation services.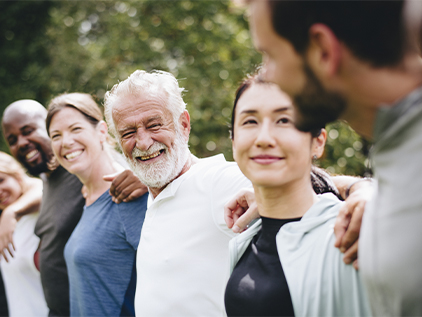 Turning Point
Turning Point offers free classes, programs and tools designed to empower and educate people affected by chronic or serious illness.
Learn more about our services
Benefits and risks of stroke rehabilitation
Rehabilitation services are considered essential after a stroke or traumatic brain injury to regain lost abilities, especially during the initial recovery stage. However, the severity of the stroke or injury and any resulting complications will have an impact on overall recovery. Research indicates that those people who participate in a dedicated stroke rehabilitation program make greater gains during recovery than those who don't receive stroke rehabilitation.
What happens during stroke rehabilitation?

Still the best
Our hospital continues to rank as the best in Kansas City and in Kansas according to U.S. News & World Report.

Magnet-recognized
The University of Kansas Hospital has been designated a Magnet® facility by the American Nurses Credentialing Center since 2006.

Respect for all people
Named a leader in LGBTQ+ Healthcare Equality by the Human Rights Campaign.