November 20, 2023
Kansas City, Kan. — Injuries are unpredictable. That's why The University of Kansas Health System Orthopedics and Sports Medicine offers a variety of ways to get treatment or guidance without an appointment and outside of regular business hours.
Whether you get hurt in everyday life or while playing sports, we have walk-in care for orthopedic injuries at our Indian Creek Campus at 10730 Nall Ave., Suite 200, Overland Park, KS 66211.
Orthopedic same-day care hours
Monday-Friday, 8 a.m.-7 p.m.
Saturday, 8 a.m.-2 p.m.
Orthopedic walk-in care will be closed on the following Saturdays in 2023: December 23 and December 30. It will also be closed on Christmas Day and New Year's Day.
Treatment is available for any acute orthopedic injury for those 5 years old and above. Injuries treated include:
Bone fractures
Dislocations
Joint injuries
Sprains
Strains
Patients at the orthopedic same-day clinic are seen without an appointment by an advanced practice provider, and follow-up appointments are scheduled as needed with orthopedic and/or sports medicine physicians and surgeons.
Patients who have suffered open fractures, serious lacerations or finger amputations should go straight to an emergency department.
To schedule an appointment with orthopedics or sports medicine during regular hours, call 913-588-1227 or request an appointment online.
U.S. News & World Report recognized The University of Kansas Hospital's orthopedics program among the top 50 best in the country in its 2023-24 Best Hospitals report. We are proud to provide you and your loved ones with nationally recognized care.
The University of Kansas Health System also provides the highest level of care for all athletes, whether for the Kansas City Chiefs and Royals or middle school, high school, college and adult athletes.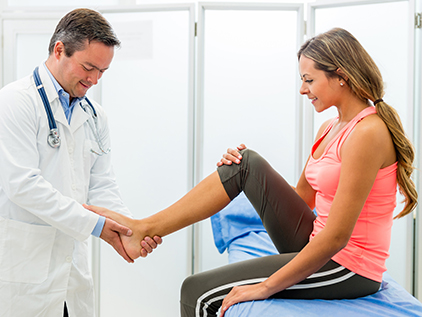 Same-day care available for orthopedic injuries
We offer walk-in care for acute orthopedic injuries such as fractures, strains and sprains in Overland Park. Walk-in hours are weekdays 8 a.m.-7 p.m. and Saturdays 8 a.m.-2 p.m.