Skip Navigation
Tammy Peterman, MS, RN, FAAN, NEA-BC, President, Kansas City Division
Tammy Peterman, MS, RN, FAAN, NEA-BC, President, Kansas City Division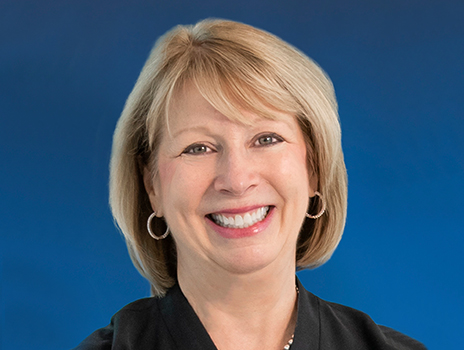 Tammy Peterman began her career as a bedside nurse at The University of Kansas Hospital after graduating from the University of Kansas School of Nursing. Since that time, she has served in a wide variety of nursing and hospital leadership roles. In 2001, she was appointed chief nursing officer for The University of Kansas Hospital. In 2007, Tammy added the titles of executive vice president and chief operating officer of the hospital. In 2016, Tammy Peterman was inducted as a fellow into the American Academy of Nursing. On July 1, 2018, Peterman became the executive vice president, chief operating officer, and chief nursing officer for the health system and president of the Kansas City Division.
Partnering with staff from across the organization, Peterman has championed initiatives focused on creating and sustaining a patient-centered culture capable of providing care and outcomes worthy of national recognition. This work has been grounded in staff engagement, the creation of a healthy work environment, effective onboarding and orientation, improved patient safety and patient outcomes, and strong interprofessional relationships.
Under her leadership, The University of Kansas Health System has achieved many significant milestones, including designation as the first Kansas-based Magnet institution in 2006, with re-designation in 2011, 2016 and 2021. The hospital has been recognized for more than 10 years on U.S. News & World Report's Best Hospitals list. The hospital has also been recognized as one of the high-performing comprehensive academic medical centers by Vizient's Quality and Accountability Study 9 times, as of 2020.
But back in 1997, the opposite was true: The University of Kansas Hospital had the lowest patient satisfaction ranking in the nation at a grim 5th percentile. It also faced deteriorating patient volumes, higher than expected mortality rates, unsustainable turnover, and severe shortfalls in funding. So how did the health system get from those dark days to where it is now? In their newly released book, "Proud But Never Satisfied," health system executives Bob Page and Tammy Peterman, with cross-genre writer Leeanne Seaver, share the 10 transformative actions they used to reinvent their culture and engage their people.
Related links