Skip Navigation
Our Journey
Since the beginning, our goal has been to help patients recover – even those who believe they are out of options. We pair the skills of our caregivers with evidence-based healthcare and the most advanced technology. We offer this care with compassion, kindness and respect. It's just part of the reason why The University of Kansas Health System is one of the top academic health systems in the country for saving lives.
The road to excellence
More than 20 years ago, our health system was in critical condition. We could not invest in the technology and resources our staff and patients needed. Our employee turnover was high, and public perception of our services was low. Our patients were not satisfied with their experience at our health system.
Just as we knew we had the ability to change our patients' lives, we believed we could change our destiny. That's why we didn't just get better – we became exceptional. We now have a national reputation for doing things right, and we are rated among the country's top hospitals in quality and patient experience.
Our turnaround is a testament to the vision and dedication of our staff. Across the health system, our staff is engaged in transforming the delivery of care. From the stroke response team that speeds care to patients showing symptoms of stroke, to the nurses who enforce "quiet time" so our patients have uninterrupted periods of peace, we are an organization that will not settle for anything less than excellence in everything we do. Add to that the power of one of the largest physician groups in the region, bringing their expertise in hundreds of specialties to provide even the most complex care.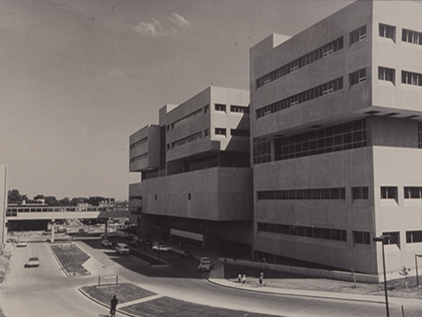 Our transformational journey
From humble beginnings, we have evolved into a destination academic health system sought out by patients and top-notch healthcare professionals from around the country.
Our history
Continuing a legacy of quality
Every day, we move closer to our goal of being the best health system in the country for patient care. Some of our most notable accomplishments include:

Still the best
Our hospital continues to rank as the best in Kansas City and in Kansas according to U.S. News & World Report.

Magnet recognized
The University of Kansas Health System has been Magnet-designated by the American Nurses Credentialing Center since 2006.

National accreditations
Our nationally accredited adult and pediatric burn center and Level I Trauma Center are the only centers of their kind in the Kansas City area.
Related links