Skip Navigation
The time between the onset of symptoms and the discovery and treatment of a brain tumor is often very short. This can leave patients feeling frightened and overwhelmed. Our specialty-trained, interdisciplinary team strives to provide patients with confidence and optimism through world-class care.
We provide comprehensive treatment for cancerous and non-cancerous brain tumors. It is our goal to achieve maximum tumor removal for the most successful symptom control and the highest rates of survival.
About brain tumors
A tumor is a growing mass of abnormal cells. Primary brain tumors are those that originate in the brain. Others metastasize, or spread, to the brain from elsewhere in the body.
Gliomas account for the majority of primary brain and spine cancer in adults, while meningiomas make up the majority of non-cancerous tumors. Some meningiomas can behave like malignant tumors, and some gliomas can be treated effectively and remain in remission for many years, if not cured.
It is rare for patients without symptoms to be diagnosed with a brain or spinal tumor. Sometimes, an unrelated medical study – such as an X-ray following a car accident – may reveal an unexpected mass. Symptoms that may cause patients to seek medical attention include:

Progressive headaches
New seizures
Weakness
Personality changes

There is no single symptom that definitively indicates a brain or spinal tumor.

Some tumors grow quickly and cause symptoms to become more severe in several days to weeks. Others cause symptoms to worsen slowly, over months or years. Some patients experience a seemingly sudden event that leads to diagnosis. Frequently, patients feel quite normal just a week or two before diagnosis.

An accurate diagnosis is critical in determining the best course of treatment. We evaluate our patients using the latest techniques to determine the exact type and location of every tumor. Our resources include:

Magnetic resonance perfusion to capture images of blood flow and volume, often elevated in aggressive tumors
Magnetic resonance spectroscopy for information on the chemical composition of the brain
Positron emission tomography to detect metabolic activity, which is seen in fast-growing, aggressive tumors
Computed tomography scan of the chest, abdomen and pelvis to evaluate whether there is cancer in other parts of the body
Functional MRI (fMRI), which allows care teams to localize language, motor and vision activities in the brain and includes specialized oversight by a neuropsychologist. We are the region's only hospital to offer the unique expertise of a neuropsychologist to read and interpret the fMRI scans.

It is critical to quickly diagnose brain tumors. Each requires an individualized treatment approach, which should begin promptly. Our board-certified neuroradiologists are subspecialists trained to interpret imaging studies and are accessible 24/7 to review them and share results with tumor care teams.

We are fortunate to have 2 of the few neuropathologists in the area. These specialists play a unique role in tumor care, analyzing brain tissue samples to evaluate the complicated distinctions among tumor cells.

Brain tumor treatment is multifaceted and personalized. Our collaborative team addresses the physical, mental and emotional effects of complex brain tumor treatment. Once the specific cancerous or non-cancerous tumor type is determined, the right treatment can begin. It may include:

Neurosurgery. Surgery is often the best and fastest way to reduce the bulk of the tumor, preparing you for radiation or chemotherapy, if needed. Appropriately aggressive, safe, maximal tumor removal is critically important. Awake craniotomy and functional mapping involve physicians interacting with patients to pinpoint functional centers – speech, memory, comprehension – before and during surgery so that the tumor can be removed as fully as possible with the least risk to brain function. When possible, our experts will perform minimally invasive endoscopic surgery, which relies upon collaboration between ENTs and neurosurgeons and offers faster recovery, reduced infection risk and fewer side effects.
Radiation oncology. This approach eradicates tumor cells with radiation while preserving the surrounding healthy tissue. One advancement in radiation treatment, brachytherapy, involves placement of radioactive seeds into or around brain tumors, directing high radiation doses to the tumor while protecting healthy tissue.

The University of Kansas Health System was the 1st in the region to offer GammaTile to treat aggressive brain tumors. GammaTile is an FDA-cleared, targeted radiation therapy that helps slow tumor regrowth. The tile is placed immediately after tumor removal surgery to deliver targeted radiation. Made of collagen, it is safely reabsorbed by the body over time.

GammaTile offers several benefits. Its placement directly into the tumor site allows radiation to begin immediately. Patients do not have to wait for surgical incisions to heal. They do not face the traditional 6-week course of daily treatments. And most patients experience fewer radiation side effects.
Chemotherapy. Medication is delivered orally or by IV infusion to attack cancer cells anywhere they reside within the body. Our fellowship-trained specialists offer the experience and see the volume of patients that enable them to bring unique insight in determining the types of chemotherapies that best attack even the rarest forms of cancer.
Immunotherapy. The groundbreaking technique called immunotherapy trains the body's own immune system to destroy cancer cells. Cells are removed from the body and genetically re-engineered, then reintroduced into the body with the ability to hunt and destroy cancer cells.
Stereotactic radiosurgery. This technique applies radiation precisely to tumor cells, in contrast to general radiation of the whole brain, once considered a standard procedure. This collaboration between neurosurgical and radiation oncology teams increases accuracy and provides greater effectiveness with fewer side effects.
Intraoperative MRI
Here, your healthcare team has access to the region's only intraoperative MRI (iMRI) inside the operating room. This technology provides surgeons with imaging capabilities within the surgical suite, allowing them to assess and refine their actions before closing the surgical site.
Learn more
Why choose us
We offer interdisciplinary, collaborative care to provide complete care options. This helps achieve maximum tumor removal for the best symptom control and highest survival rates. Our subspecialty-trained doctors bring unparalleled experience to your care.
Patients with cancerous tumors benefit from the expertise offered at The University of Kansas Cancer Center, one of just 71 National Cancer Institute-designated cancer centers in the nation and the only one in the region. Your care team may include:

Neuro-oncologists
Neurosurgeons
Neuroradiologists
Neuropathologists
Interventional radiologists
Otolaryngologists
Anesthesiologists
Nurse practitioners
Endocrinologists
Medical oncologists
Radiation oncologists
Ophthalmologists
Neuropsychologists
Rehabilitation specialists

As part of one of the nation's premier academic medical centers, our care providers are committed to research and scientific discovery. We can often include our patients in potentially lifesaving clinical trials and treatment options not available anywhere else.
We apply state-of-the-art neuronavigation technologies to effectively map brain surgeries, including the region's only intraoperative MRI and one of the few 3D printers maintained on site.
We offer support groups for patients and families managing their lives with or following complex neurological conditions.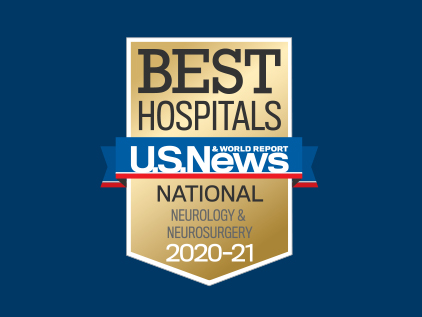 Ranked among the nation's best
Our program ranked among the nation's best in U.S. News & World Report's Best Hospitals 2020-21. Rankings are based on measurable achievements in quality, safety, nursing excellence and more. We are proud to provide you and your loved ones with nationally recognized neurology and neurosurgery care.
Read about this honor
What to expect
Please arrive for your first appointment about 30 minutes early to check in and complete forms for new patients.
You and your physician will discuss your symptoms, family history and concerns. You will also receive a thorough physical exam and diagnostic imaging. Any further tests you may need can usually be performed the day of your visit or within a day or 2.
A few days following your visit, your physician will review the test results with you and discuss the best treatment options for your condition. You may be able to participate in a clinical trial that may be beneficial to you.
Medical insurance cards. We accept most insurance plans, and our staff will work with you before your appointment to ensure you have the coverage you need.
Personal identification, such as a current driver's license, state ID or envelope showing your current address.
All relevant medical records, including X-rays, lab results, reports and pathology slides.
A list of all medications you currently take, including any over-the-counter medications.
A family member or friend who can listen and take notes for you. A tape or digital recorder is also very helpful. This will ensure you don't overlook or forget anything.
A written list of your questions for each visit.

We will help you gather the necessary information for your first appointment. You may need to obtain X-rays and pathology slides from healthcare providers other than The University of Kansas Health System. You may be required to authorize the release of confidential information.

To obtain your medical records from our health system, download our authorization form and send it or bring it to:

The University of Kansas Health System
Medical Records Department
5799 Broadmoor, Suite 200
Mission, KS 66202

8 a.m.-4:30 p.m. Monday-Friday

You can also fax your form to 913-588-2495.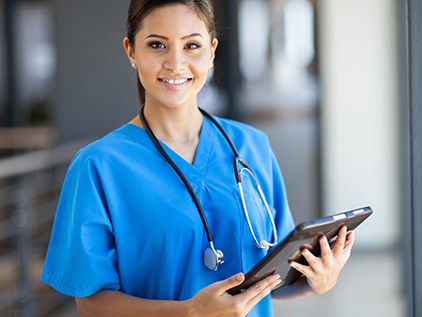 Nurse navigators
One unique advantage to getting your brain tumor care at our health system is our nurse navigators. They serve as a single point of contact to help patients navigate potentially complex diagnoses and treatments.
Our experts
Learn more about our leaders in brain tumor treatment and research.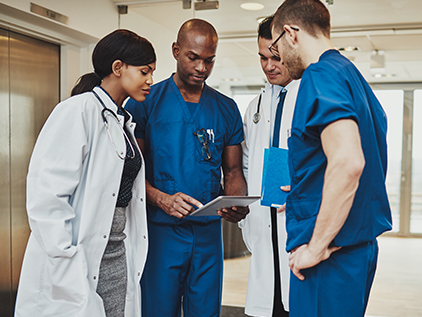 Leading research and clinical trials
We collaborate closely with the University of Kansas Medical Center to realize the power of academic medicine. Here at the health system, we deliver advanced patient care. The researchers at the medical center conduct industry-leading clinical trials and explore leading-edge innovation.
Our Research