Skip Navigation
Your First Visit
Every cardiology doctor and staff member at The University of Kansas Health System in Kansas City recognizes the importance of your first heart care visit. We want your experience with us to be the best possible, from the moment you schedule your first appointment through every step of your care and treatment.
When you call, have your insurance information available as well as the address and phone number of your primary care physician or the doctor who referred you.
Before your appointment
Reminder
One or 2 days before your visit, our automated reminder system will call to confirm your appointment. You do not need to respond to the reminder call unless you need to change or cancel your appointment.
What to bring
Before your visit, a nurse may call you to review your health history and symptoms. The nurse will ask you to bring any prescribed medications you currently take and to have medical records of any cardiac procedures, such as testing or surgery, sent to us before your visit.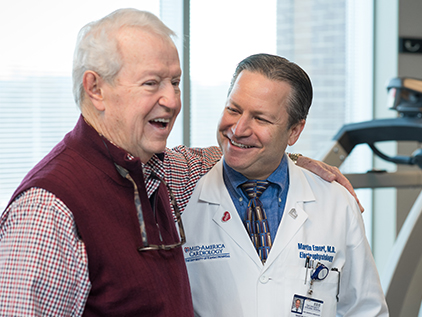 In their own words
Our best measure of success is the health of our patients. Find out what they have to say about their experience at The University of Kansas Health System.
Read our patient stories
At our office
Please arrive 20 minutes before your scheduled appointment to complete any additional forms we may need.
A member of your care team will weigh you and take you to a private room where you can change into a gown. We will take your blood pressure and pulse, and may also perform an electrocardiogram, or EKG. This is a painless, noninvasive test that is done right in our office.
A member of your care team will then review your reason for the visit, noting any symptoms you have and all medications you are taking. This information will be recorded in our electronic medical record, a secure and fully computerized way for your care team to monitor all aspects of your care.
Your cardiologist
You and your cardiologist will discuss your symptoms and concerns. After performing a physical examination, your cardiologist may recommend additional tests, treatments or a change in your medication regimen. You will discuss each recommendation and any available options.
We welcome any questions you have about your condition and diagnosis. Your cardiologist will be happy to answer them.
If further testing is recommended, most procedures can be performed the same day of your visit or within a day or 2. If we are conducting a clinical research study that may benefit you, your cardiologist may ask if you want to participate.
Need help making an appointment?
Continuing care
After your visit, your cardiologist will communicate with your primary care physician and any other healthcare provider involved in your care. Your cardiologist or nurse will contact you about the results of any tests that we perform.
Billing
There are several ways you can pay your bill, including online, by phone or by check. Learn more about our convenient options for bill payment.
To discuss payment arrangements, call 877-729-5874 or visit the financial counselors available at the health system.
Related links