Skip Navigation
Skin Cancer Reconstruction
Skin Cancer Reconstruction
Skin cancer is the most common form of cancer in the nation yet, if caught early, is one of the most treatable. Almost 1 million new cases of skin cancer are diagnosed in the United States annually. It is estimated that about half of Americans will develop skin cancer by the time they reach the age of 65.
The University of Kansas Health System offers skin cancer reconstruction surgery for those who are affected by precancerous and malignant skin cancers. We work closely with specialists at The University of Kansas Cancer Center to ensure complete removal of your skin cancer and optimal reconstruction. We also offer facial skin screening, which facilitates timely treatment of skin cancers at an early stage.
What is skin cancer reconstruction surgery?
When skin cancer or precancerous lesions are removed, a portion of healthy skin around may be removed as well – which can result in scarring or skin irregularities. Skin cancer reconstruction involves rebuilding the treated area to restore a normal, unblemished appearance. This improves the appearance of any scarring or disfigurement left after skin cancer removal surgery.
More invasive skin cancers will require more invasive treatments and possibly reconstructive surgery. In the case that surgery was necessary in the nose or mid-face, we also offer nasal reconstruction.
Who can have skin cancer reconstruction?
If you have a melanoma, irregular mole(s), basal cell carcinoma or another type of skin cancer, you are likely a good candidate for skin cancer removal and reconstructive procedures. The treatment is best performed on early-stage skin cancer.
Physicians often mention the A-B-C-D-E method for identifying skin cancer. If you see any of the following mole irregularities, you should have them examined by a healthcare professional:
Asymmetry
Border irregularity
Color variegation
Diameter
Evolving
How does skin cancer reconstruction work?
Skin cancer reconstructive surgery can be performed 1 of 2 ways: At the time of skin cancer surgery, or after skin cancer surgery.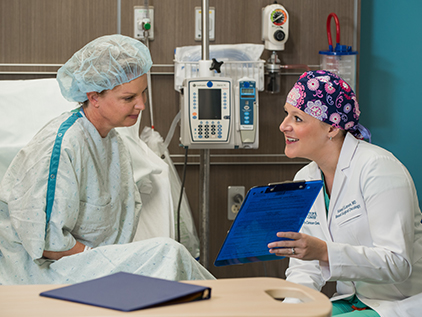 Cancer care you can count on
The University of Kansas Health System is part of The University of Kansas Cancer Center – 1 of just 53 NCI-designated comprehensive cancer centers in the nation.
Our cancer care
Benefits and risks of skin cancer reconstruction
The effects of skin cancer and skin cancer removal can leave a lasting impact on your appearance. Getting skin cancer reconstruction surgery can greatly improve the look of the treatment area. Our surgeons are dedicated to achieving natural-looking outcomes and will take great care to minimize any visible scarring and noticeable skin damage.
Risks associated with skin cancer removal surgery may include infection, scarring, bleeding, rejection of skin graft, wound rupture, fluid buildup, nerve dysfunction and hematoma.
What happens during skin cancer reconstruction?
For smaller forms of skin cancer, a local anesthetic may be used, but sometimes a general anesthetic is necessary. Stitches can be used to close a small incision, while large removals or those on the face, hands or feet may require a skin graft to close the wound.
For larger forms of skin cancer, Mohs skin cancer surgery may be effective. In this procedure, your doctor will use a microscope to examine the tissue and excise the cancer layer by layer to reveal healthy tissue. The removed specimen will be examined to ensure full removal of cancerous cells. When all cancerous cells have been removed, your reconstructive surgeon will repair the wound with a flap, graft or side-to-side closure. The wound will be closed with sutures.

Still the best
Our hospital continues to rank as the best in Kansas City and in Kansas according to U.S. News & World Report.

Magnet-recognized
The University of Kansas Hospital has been designated a Magnet® facility by the American Nurses Credentialing Center since 2006.

Respect for all people
Named a leader in LGBTQ+ Healthcare Equality by the Human Rights Campaign.
Related links