Skip Navigation
Facial Trauma Repair
When an injury or accident causes facial trauma, surgery can help restore your facial function and appearance. The surgical approaches and techniques vary depending on the location and severity of the injury.
Specialists at The University of Kansas Health System offer many different ways to improve traumatic facial injuries, from simple wound closure to skin grafts, flaps and bony fracture repair. Their focus on restoration, function and aesthetic appearance ensures you look and feel your best.
What is facial trauma repair?
Facial trauma occurs when an injury damages the soft tissue, underlying bone or nerves of the face and jaw. Because of the sensitive nature of facial injuries and the high degree of physical and emotional distress, early evaluation and prompt treatment of facial trauma is essential to achieving the best possible outcome.
A CT scan is usually necessary to properly assess the extent of your injury and determine the next steps to restore function and achieve an optimal aesthetic result. With extensive experience in facial reconstruction, our surgeons are committed to treating injuries of the face with diligence and precision.
Who can have facial trauma repair?
Facial trauma reconstruction can be used to address a number of facial injuries. If you have suffered any of the following, you can benefit from facial trauma repair.
Soft tissue injuries marked by cuts, tears or breaks in the skin, subcutaneous tissue, or underlying muscle. Facial lacerations are typically the result of extreme pressure or blunt force impact.

Facial fractures can occur within the nasal structure, eye (orbital) sockets or cheekbones. Due to the thin and delicate nature of the bones and cartilage in the nose, nasal fractures are the most common type of facial fracture. Factors that can determine the appropriate treatment for broken facial bones include your age, health and the severity and location of the fracture.

Fractures in the upper and lower jaw may require surgery to properly realign the jaw and restore normal biting and chewing.

Injuries resulting in weakness or paralysis of the face should be urgently evaluated. Many new techniques are available to help restore facial movement.
How does facial trauma repair work?
Facial trauma repair surgery works to restore soft tissues and/or bones after a traumatic injury.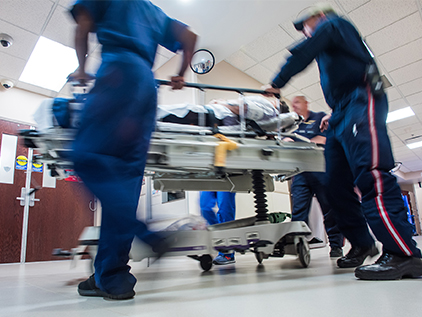 Level I Trauma Center
The University of Kansas Hospital is the region's most experienced nationally verified Level I Trauma Center, designated by the American College of Surgeons. Only select trauma programs in the U.S. receive the ACS Level I rating, the highest rating a program can achieve.
Our trauma center
Benefits and risks of facial trauma repair
Facial trauma repair surgery can greatly improve your confidence and comfort after a traumatic injury. Some of the benefits you can expect after this procedure include:
A more natural appearance with minimized scarring
Improved stability and strength to a fractured bone
Restored functionality and integrity of injured facial features
Most people find the benefits of surgery far outweigh the risks. In fact, prompt facial trauma repair actually reduces your risk of developing permanent complications to the delicate facial structures.
What happens during facial trauma repair?
Facial trauma repair is a highly customized procedure. Your surgical plan will depend on the severity and location of your injury. Typically, however, a combination of techniques is used to provide the best result.
Discomfort is common after facial trauma repair surgery. Bruising and swelling are to be expected, and can be managed with proper self-care measures. Your comfort level will depend on the extent of your surgery, as well as your pain tolerance. Pain medication may be prescribed if necessary.
Most people can return to work in 1-2 weeks. However, your recovery may take more time if your injury is severe. Your surgeon will let you know when it's safe to resume normal activities.

Still the best
Our hospital continues to rank as the best in Kansas City and in Kansas according to U.S. News & World Report.

Magnet-recognized
The University of Kansas Hospital has been designated a Magnet® facility by the American Nurses Credentialing Center since 2006.

Respect for all people
Named a leader in LGBTQ+ Healthcare Equality by the Human Rights Campaign.
Related links