Skip Navigation
Microvascular Reconstruction Surgery
Microvascular Reconstruction Surgery
Microvascular reconstruction surgery is a procedure in which very small blood vessels are rejoined in order to restore blood flow to severed tissue. This advanced type of reconstructive surgery requires the use of a microscope and specialized surgical instruments. Microvascular surgery is used in both replantation and reconstruction of severed limbs and damaged body tissue.
The board-certified surgeons at The University of Kansas Health System are experts in innovative techniques such as microvascular surgery that provide better outcomes. Our multidisciplinary team of doctors and medical professionals provides the highest quality care possible.
What is microvascular reconstruction surgery?
Microvascular reconstruction, or microsurgery, is one of the most advanced and highly technical procedures in modern surgery. Its goal is to reattach the tiniest blood vessels in damaged living tissue to keep it alive and healthy.
Our surgical team performs microvascular reconstruction for a number of reasons that involve the surgical reconnection of living tissue, including:
Congenital birth defects
Limb reconstruction
Malignant tumor removal
Who can have microvascular reconstruction surgery?
Microvascular reconstruction surgery may be appropriate for those of almost any age who require the surgical reattachment of living tissue. However, not all people are candidates for microvascular reconstruction.
The primary requirement of successful microvascular surgery is that the tissue of a severed limb or organ must still be living. Dead tissue and tissue that has been damaged beyond repair cannot be reattached.
To optimize the potential for successful replantation of a severed body part:
Moisten and wring out sterile gauze. Gently wrap the body part and place in a plastic bag.
Keep the wrapped body part cool, but do not allow it to freeze. Set the bag on ice and place it in a cooler, but do not immerse it in ice. Frozen tissue will die.
Never use dry ice.
Give the body part immediately to your care team. It may be possible to begin preparing the severed area for surgery while evaluating the patient, allowing for the best use of available time.
Prior to the procedure, your physician will complete a thorough physical examination of the surgical area to determine if reconstruction is possible using microvascular reconstruction.
How does microvascular reconstruction surgery work?
The goal of microvascular reconstruction surgery is to restore circulation to damaged tissue before it dies. Preventing tissue death has historically been a major roadblock to the successful replantation of severed limbs.
Today, advances in microsurgery make successful replantation of lost body parts with reasonable functional recovery more possible than ever before. No longer should amputation be broadly viewed as the first or only option following traumatic separation of a limb or body part.
Microvascular reconstruction surgery is performed with the help of a special microscope, miniaturized instruments and extremely fine sutures. The typical diameter of the blood vessels that are treated with this procedure are around 3-5 millimeters wide, making this a delicate and complex procedure.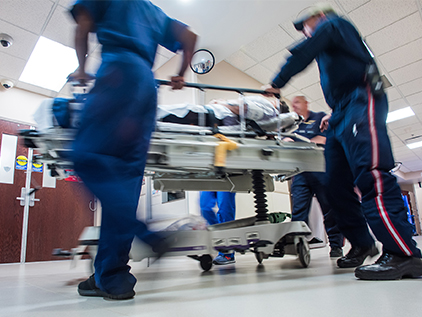 Level I Trauma Center
The University of Kansas Hospital is the region's most experienced nationally verified Level I Trauma Center, designated by the American College of Surgeons. Only select trauma programs in the U.S. receive the ACS Level I rating, the highest rating a program can achieve.
Our trauma center
Benefits and risks of microvascular reconstruction surgery
Reattaching or reconstructing damaged body tissue can have varying outcomes based on the extent and nature of the injury. The microvascular reconstruction procedure carries a few unlikely complications, including changes in sensitivity, atypical appearance, asymmetry and infection.
What happens during microvascular reconstruction surgery?
The surgical process of microvascular reconstruction varies greatly depending on the specifics of the procedure, though most procedures begin with general anesthetic. Incisions are made, and a number of different treatments may be used during the process:
Skin grafting
Soft tissue covers
Callus distraction
Tendon transfer
Local or musculocutaneous flaps
Depending on the specific situation, often multiple long surgeries will be necessary to complete the intricate, careful surgical work necessary for successful microvascular reconstruction. As with any case involving the surgical attachment of living tissue, it may not be possible to achieve the same level of connection that previously existed.
Immediately after the procedure, a bandage will be applied to the area and drains may be used to release the pressure of fluid accumulation. A splint or brace may be necessary in cases of limb attachment to provide complete immobilization. There may be some discomfort, which can be managed by the use of prescription medication.
Sutures can be removed in about a week, at which point some activity may be resumed, with the treatment area favored and protected from accidental impacts for about 2-5 weeks. Some people may experience bruising following the procedure, which should dissipate in 5-10 days. Swelling should dissipate in 3-5 weeks.

Still the best
Our hospital continues to rank as the best in Kansas City and in Kansas according to U.S. News & World Report.

Magnet-recognized
The University of Kansas Hospital has been designated a Magnet® facility by the American Nurses Credentialing Center since 2006.

Respect for all people
Named a leader in LGBTQ+ Healthcare Equality by the Human Rights Campaign.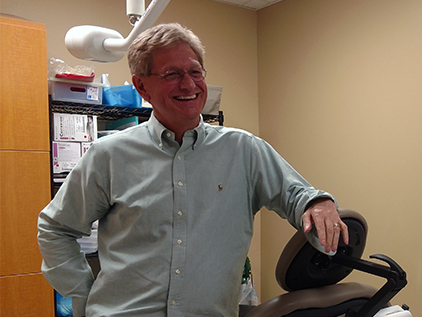 Almost an amputee
One wrong move while working alone on a home improvement project, and Steve Pelegrin found himself fighting for his life and for his hand. Quick thinking on his part plus advanced microsurgery care saved both.
Read Steve's story
Related links