Skip Navigation
Skin Lesion Removal
Many types of skin lesions can be removed for medical and cosmetic reasons. While skin lesion removal is typically recommended if the lesion shows signs of possible skin cancer, such as changing color or shape, many of these lesions may still be harmless. Biopsies are performed on removed lesions to know for sure.
The University of Kansas Health System offers skin lesion removal for both cancerous and noncancerous skin lesions. In conjunction with The University of Kansas Cancer Center, our specialists treat skin lesions and melanoma in a way that prioritizes optimal healing after skin lesion removal or other types of skin cancer treatment.
What is skin lesion removal?
Skin lesion removal is a procedure that's performed to remove growths or other irregularities on the skin. People can have skin lesions removed for cosmetic reasons even if the lesion is benign (noncancerous).
Some skin lesions can be removed during a normal office visit, while others require surgery to remove. In some cases, your doctor may remove a portion of the skin lesion and then send the tissue to the lab for a biopsy to determine whether the cells are cancerous. If so, skin cancer treatment may be recommended.
Who can have skin lesion removal?
Lesions that have not displayed any signs of cancer will be treated initially with nonsurgical procedures such as medicines, creams, lotions or over-the-counter treatments. Lesions that do not respond to these treatments may then be considered for skin lesion removal.
Lesions that do show cancerous signs will be removed. In addition, some noncancerous lesions in sensitive or highly visible areas may also be removed surgically without trying nonsurgical methods in order to minimize scarring.
How does skin lesion removal work?
Depending on the size, severity and type of lesion to be removed, there are a number of procedures that may be used for skin lesion removal.
The simplest procedures include cutting skin tags with surgical scissors and shaving noncancerous lesions down to the skin level. More serious surgeries include removing the lesion and surrounding skin through surgical excision, laser therapy or photoactivated chemicals. Freezing skin tags, lesions or moles with liquid nitrogen is also common.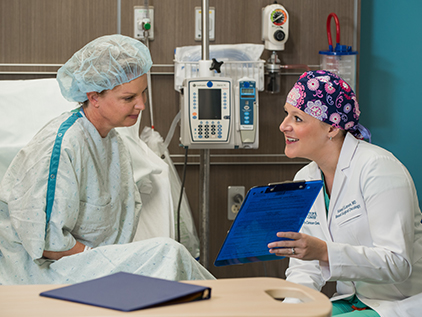 Cancer care you can count on
The University of Kansas Health System is part of The University of Kansas Cancer Center – 1 of just 54 NCI-designated comprehensive cancer centers in the nation.
Our cancer care
Benefits and risks of skin lesion removal
Skin lesion removal can be beneficial for cosmetic and functional reasons. From an aesthetic perspective, skin lesion removal can result in smoother skin with fewer blemishes. Those who remove skin lesions to improve their appearance often feel more confident after skin lesion removal.
Other skin lesions may be abnormal, sore, lumpy or uncomfortable. Some may be cancerous. Removing the lesion not only improves discomfort, it can also protect your health.
The skin lesion removal procedure is extremely common and very safe, but there is a low risk of complications, including infection, scarring, bleeding and changes to sensitivity. You will receive instructions on how to care for your skin after your procedure to ensure full healing.
What happens during skin lesion removal?
Some warts and lesions may be removed through a freezing procedure that uses liquid nitrogen to remove the lesion and requires no anesthetic. Most other surgical removals require the use of local anesthetic to numb the area during the procedure.
When removing a suspected cancerous lesion, it is often critical to remove an entire barrier of healthy tissue around the lesion to ensure the cancer does not spread. More invasive procedures, such as Mohs surgery, involve the careful layer-by-layer removal of skin tissue – going as deep as necessary to ensure the entire lesion and a healthy barrier of tissue have been removed.
Following surgical skin lesion removal, simple incisions are closed with sutures, while larger surgical areas may be closed using skin grafts from other areas on the body.

Still the best
Our hospital continues to rank as the best in Kansas City and in Kansas according to U.S. News & World Report.

Magnet-recognized
The University of Kansas Hospital has been designated a Magnet® facility by the American Nurses Credentialing Center since 2006.

Respect for all people
Named a leader in LGBTQ+ Healthcare Equality by the Human Rights Campaign.
Related links