Skip Navigation
Facial Nerve Surgery
When an injury or condition causes the loss of movement in some or all of the face, facial nerve surgery may be required. The University of Kansas Health System provides innovative care to people who have facial nerve disorders, such as facial paralysis. With the help of our multidisciplinary specialists, you'll receive an individualized plan designed not just to treat the symptoms of your condition, but also improve your quality of life.
What is facial nerve surgery?
The most effective way to return motor function to the face is the microsurgical repair of the facial nerve, also known as the 7th cranial nerve. This reconstructive surgery may be needed following:
Trauma
Inadvertent surgical division during another surgery
Removal of the nerve during tumor removal
Who can have facial nerve surgery?
Facial nerve surgery is typically used to treat injuries or other conditions that cause facial paralysis. People diagnosed with facial nerve palsy or Bell's palsy are often candidates for facial nerve surgery.
The most important consideration for the facial nerve surgery procedure is minimizing the time between the nerve damage and its reconstruction. The sooner the surgery can be completed, the greater the chances of a successful and quick recovery.
Muscle tissue that has atrophied due to disuse does not respond to this treatment, so it is important that vital muscle is still present within the paralyzed portions of the face. It may be possible to repair damage after an extended time has passed, but this leads to lessened outcomes.
How does facial nerve surgery work?
Facial nerve surgery works by restoring function to paralyzed muscles in the face, but how this is accomplished can vary according to each person's condition. Surgeons may attempt to reconnect severed nerves or graft healthy nerve tissue onto paralyzed tissue. At times, a combination of these 2 approaches will be used.
In cases where the surgeon attempts to reconnect nerves, they are stitched with ultra fine sutures and allowed to grow back together. In cases where a graft is necessary, the surgeon will attempt to connect the paralyzed muscles to a healthy nerve such as the hypoglossal nerve or masseter nerve.
Sometimes surgeons will harvest nerve tissue from another part of the body to graft onto paralyzed tissue in order to connect it to healthy nerve tissue in a different location of the face.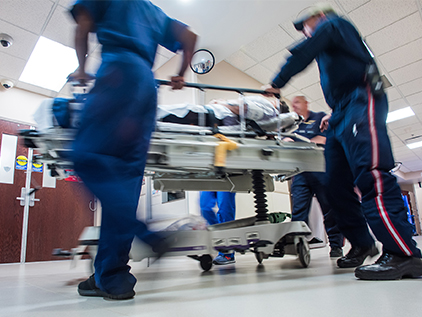 Level I Trauma Center
The University of Kansas Hospital is the region's most experienced nationally verified Level I Trauma Center, designated by the American College of Surgeons. Only select trauma programs in the U.S. receive the ACS Level I rating, the highest rating a program can achieve.
Our trauma center
Benefits and risks of facial nerve surgery
All surgical procedures carry some form of risk from bleeding, infection and negative interactions with anesthesia or other medication.
When an individual receives facial nerve surgery, they may also experience changes in sensitivity to the affected area. Nerve grafts from other areas of the body may also result in sensitivity changes at the donor site.
Nerve regeneration is a slow process and total recovery can take many months depending on the injury. Although facial nerve surgery can greatly improve your quality of life, full recovery can take years in some cases.
What happens during facial nerve surgery?
Facial nerve reconstruction is performed under general anesthetic due to the sensitive nature of nerve repair. Depending on the type of procedure an overnight stay may be required for observation and recovery.
Direct repair, in which a severed nerve is reattached, is only possible when the severed nerve section has not sustained a loss of neural tissue. For this procedure, a tiny incision may be made near the damage site or in the upper neck behind the ear. The ends of the nerve are connected using microsurgery and the incision closed, allowing the nerve cells to regenerate and become functional once more.
In situations that have led to a loss of neural tissue or other complications that prevent direct repair, a surgical neural graft is used from nerves elsewhere in the body. This graft is placed over the remaining nerve ends to bridge the gap between them. The grafted nerve is attached to both nerve ends with microsurgery and the incision is closed.
A dressing may be applied to the area following the procedure and a drain used if necessary to remove excess fluid buildup. Some swelling may occur in the first few days, and should diminish in a few weeks. Bruising is also possible, and should diminish in 5-10 days. Prescription or over-the-counter pain medication may be used as needed to manage any pain or discomfort.

Still the best
Our hospital continues to rank as the best in Kansas City and in Kansas according to U.S. News & World Report.

Magnet-recognized
The University of Kansas Hospital has been designated a Magnet® facility by the American Nurses Credentialing Center since 2006.

Respect for all people
Named a leader in LGBTQ+ Healthcare Equality by the Human Rights Campaign.
Related links