Skip Navigation
Preparing for Surgery
We want your visit to be as comfortable and convenient as possible. This guide is intended to help you prepare for your procedure.
Before your surgery or procedure
Surgery preparation goes beyond arriving at Admissions on the day of your procedure. Follow these steps to ensure a more positive surgical experience.
Due to the COVID-19 pandemic, we require that all patients be screened for the virus 48-72 hours prior to a procedure, operation or planned labor and delivery. COVID-19 testing is available at 2 drive-thru swab clinic locations. Your care team will help you schedule your screening appointment.

Don't eat or drink anything after midnight the day before your procedure unless approved by your surgeon, anesthesiologist or registered nurse. This includes gum, mints, candy and chewing tobacco. If you need to take medication the morning of your procedure, take it with a small amount of water.

Follow preoperative medication instructions from your surgeon, anesthesiologist, preanesthesia pharmacist or registered nurse. Also, follow any instructions regarding medications from your specialist. If you have questions, call your surgeon or the preanesthesia testing team at the location where your surgery is scheduled to take place.

The afternoon before your procedure, your surgeon or staff at the preanesthesia testing clinic will contact you about when to arrive. If you're having a procedure on a Monday, we'll notify you on the preceding Friday. If you haven't heard from us by the afternoon on the business day before your surgery, call the preanesthesia team to confirm your arrival time.

Things can change between the time your procedure was originally scheduled and when you actually have it. Make sure you notify us if:

There is any possibility you are pregnant
You become ill with a cough, fever, sore throat, nausea, vomiting or flu-like symptoms
You need to cancel your procedure
You are going to be late
Day of surgery
On the day of your surgery, make sure you have the following items with you for a smooth check-in process.
Bring personal identification and your insurance card. If you are a legal guardian to the patient, you must bring official documents showing guardianship. If you have a living will, advance directive or durable power of attorney, bring a copy of the original document to your preanesthesia visit. We will make a copy for your chart.

If you would like to create a legal advance directive and/or designate a durable power of attorney for healthcare decisions, we can help. Forms are available in Admissions and the preanesthesia testing area. Once you've completed the forms, they can be notarized in Admissions.

Follow your surgeon's instructions regarding bathing and showering. If you didn't receive instructions, you may bathe or shower the morning of your procedure with antibacterial soap. Brush your teeth and tongue the morning of your procedure. For safety purposes, do not use a tampon the day of your procedure.

Bring the following items if you use them:

Inhaler
Hearing aid
CPAP/BiPAP (please bring mask and machine)

If you have an internal medical device such as a pacemaker or AICD, bring the medical device identification card.

Wear loose, comfortable clothing. Don't wear makeup or fingernail polish and remove all jewelry and piercings.

If you wear contact lenses, please wear your glasses the morning of your surgery or procedure. Bring a storage container for your glasses/contacts, dentures and partials. You must remove these items before going into the operating room. You may want to bring a pillow to help position yourself for comfort during your ride home.

If you're admitted to the hospital after your surgery or procedure, leave your overnight bag in the car. A family member can get it for you after you've been admitted to a room. The University of Kansas Health System is not responsible for the loss or breakage of personal items. Leave money, jewelry and other valuables at home.
Safety and comfort
Surgery is stressful, no doubt about it. That's why we make every effort to ensure your stay is safe and comfortable. Your well-being and recovery depend on it.
Your safety is a priority
Patient safety is one of our most important goals, especially during surgical procedures. We work with you to develop the safest and most appropriate care plan using the most advanced services available. Our patient- and family-focused care philosophy is designed to ease your concerns and help you understand what to expect during your recovery.
You're in a comfortable place where your needs will be heard. So don't be afraid to ask questions and participate in your care. We want you to feel comfortable, safe and special – because here is where you begin to heal.
Your comfort is important to healing
Your comfort is important to us. Our goal is to ensure your needs are met and that you and your family are comfortable. We have an open, welcoming approach to healing that includes family and friends. We are committed to making everyone's visiting experience as easy and pleasant as possible.
If you have healthcare questions or need access to community resources, our patient relations team is here to assist you. For directions, campus maps and personal escorts to appointments, you can turn to our information desk team members. We also offer patients and visitors a host of other conveniences.
To ensure your safety and well-being, we work as a team with you and your family. We will evaluate, treat and prevent any discomfort during your stay. By doing so, we improve your healing and quality of life by:
Assessing your pain regularly
Providing you with information you need to understand your pain and how to manage it
Seeking to prevent your pain, as well as to treat it
Responding promptly to your reports of pain
After surgery
Your care team will work closely with you so you know what to expect after surgery. If you have questions about your recovery, don't hesitate to talk with your doctor and other care team members.
Recovery in the hospital
The length of your recovery in the hospital depends on the type of procedure you have as well as your overall condition and needs. Our team will closely monitor your progress so your recovery goes as smoothly and quickly as possible.
For most complex surgeries, recovery in the hospital can last for several days or more. Patients who experience complications will stay in the hospital longer.
Patients whose conditions must be monitored more closely will spend some recovery time in intensive care. Here, your care team will record your vital signs and monitor your healing. They will also talk to you about when you may get out of bed and the amount of activity you may take part in. In addition, your care team will coordinate any visits that are scheduled for you with the hospital's physical, occupational and/or speech therapists.
Before you go home, we'll give you information about your medications, lab tests, follow-up care and any other details regarding your continued care and recovery.
When you leave the hospital
We want to make sure your discharge from the hospital is easy and that all your questions are answered. Your care team will work with you to create a safe discharge plan and answer your questions. Keep a list of questions ready to ask as you prepare to leave the hospital.
You play an important role
You play an important role in your recovery and well-being. Be sure to follow the instructions of your doctors and other care team members. Keep all appointments to visit the lab, your therapists and your doctor. And call your care team whenever you have questions or concerns.
Follow-up care
Your care continues after you leave the hospital. Your care team will monitor your progress as you come in for any follow-up appointments. Changing your medication or therapy schedule can result in complications or delay your recovery. Report any side effects to your doctor, nurse or therapist.
Recovering at home
After you leave the hospital, give yourself adequate time to recover. Depending on your condition, you may not be able to drive or lift objects for a period of time. Your care team will talk to you about any limitations. Be sure to ask your care team if you have questions or concerns.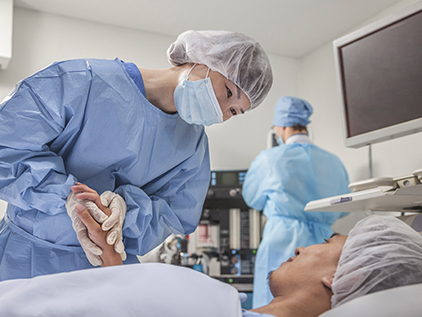 Your guide to surgery
If you have a planned surgery or procedure with us at either KU MedWest or our Indian Creek Campus, our surgery guide can help you prepare.
View now
Related links