Skip Navigation
Alerts
For Patients and Visitors – No Hospital Visitors Allowed
We are committed to your health and safety. Check for updates for limited visitor exceptions effective Thursday, March 19, for the novel coronavirus (COVID-19).
A change in diet is key to health for Leigh Fox
A Change in Diet is Key to Health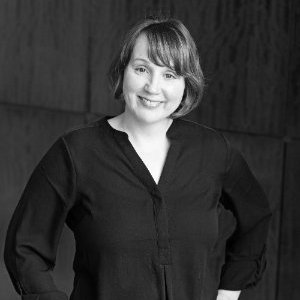 February 22, 2019
Jennifer Barnett Fox was sick and tired of being sick and tired.
The University of Kansas Health System's integrative medicine program helped open her eyes to take control of her health.
Jennifer, a writer, editor and yoga teacher, said she'd suffered with daily headaches, skin problems and poor sleep since she was very young. She'd sought solutions through conventional medicine, chiropractic treatment, self-directed elimination diets and many exercise regimens, including step counting and intensive P90X workouts.
While a few approaches offered a little bit of help, nothing ever really solved the problem.
"I was working with a personal trainer and was failing to get results," she says. "In fact, the opposite was happening."
The trainer had no explanation for the poor results and suggested Jennifer see a nutritionist, another avenue she had tried without success. The trainer convinced her to give it one more chance.
Jennifer met with a nutritionist with the integrative medicine program at The University of Kansas Health System.
I was asked questions all the way back to my birth, things that I really hadn't given much thought to," Jennifer says.
She says it was a nice surprise to have someone listen to her, especially after she'd spent so much time and money trying to figure out why she wasn't feeling good.
The nutritionist recommended nutrient, food sensitivity and thyroid testing. Jennifer says the results left her in disbelief.
"My results showed a lot of allergies and significant nutrient deficiencies. All the good things I was trying to do on my own didn't have much impact because my body wasn't functioning," she says. "I was prediabetic, (my) gums were receding and my thyroid was a mess."
She says those results were difficult to hear because she'd made so much effort to stay healthy. She couldn't think how she'd be able to turn it around.
The nutritionist recommended Jennifer start her turnaround by changing how and what she ate.
"I had to eliminate grains, dairy, gluten and excess carbs for 6 months," Jennifer says. "My diet was essentially meat, fat, nuts and vegetables. There wasn't much variety and it was impossible to eat out or have meals with friends."
She was cranky over those first few weeks, she reports. She wondered if this approach would be the latest one that wouldn't work out.
"I got so tired of eating the same kinds of things," she says. "I was pretty miserable."
Not only was the repetitive diet discouraging, so were her initial results. Jennifer says she stuck with it out of curiosity, a motivation to get well and because of the nutritionist's support.
"She believed my health could improve," Jennifer says. "On the days I doubted, I could remind myself that she believed. Some days, that was all that kept me on track."
Significant improvements did come, though Jennifer says it was nearly a year before the bigger ones arrived. She even saw improvements in areas she'd never considered to be a problem.
"When people asked what I did, I said I changed my diet. Not many people believe you when you say that," she says.
Jennifer says she's now sleeping better, rarely has headaches and the recession in her gums has reversed. Her thyroid has normalized, her body temperature is lower and she has better tolerance for working out in the heat.
Jennifer's experience with the integrative medicine team taught her that she's responsible for her health on a daily – even hourly – basis. Every personal decision plays a part, whether it's choosing to eat certain foods or opting to drink more water.
"I am the master of my health in many ways. I don't think people really want to believe that or to take responsibility to that extreme," she says. "Yes, you can take a pill, but there are side effects and it may or may not work. What you put in your body fuels it in so many ways."
Jennifer says the decision to work with the integrative medicine team was one of the most important things she's ever done for herself and she's thankful for it. She says anyone considering integrative medicine needs to realize that every person is unique.
"What works for you may or may not work for someone else," she says. "There is no one-sized approach. This is something you do for you."
If you'd like to learn more about integrative medicine, call the clinic at 913-588-6208 to make an appointment with a member of our team.
We hope you'll follow us on Facebook, Pinterest, YouTube and Twitter.
Explore more news, events and media