Skip Navigation
About Us
We provide world-class neurosciences care for people living with complex conditions of the brain, spine and nervous system. For the people of Kansas City and far beyond, our neurology and neurosurgery specialists offer experience and expertise to support you through evaluation, diagnosis and recovery.
We deliver the Kansas City region's best care using the most innovative diagnostic technologies and treatment options. Our focus, skill and compassion combine to guide and support you through your healthcare journey.
Who we are
We share a special partnership with the University of Kansas Medical Center. Working together, we form the region's premier academic health system. Our staff are dedicated researchers, scientists, educators and caregivers. Collaborative efforts ensure patients receive the latest treatments, often including options that aren't available elsewhere in the region.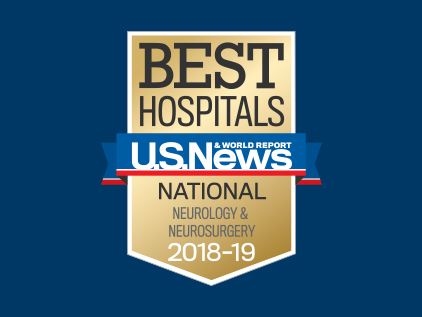 Ranked among the nation's best
Our neurosciences program is the region's largest, and U.S. News & World Report has consistently ranked our neurology and neurosurgery services among the nation's top 50. Survival rates, patient safety and specialized staff all contribute to this success.
Best Hospital in Kansas
Leading innovators
When advanced clinical skill meets the latest technology innovation, patients receive the most thorough, most precise, most effective care.
As passionate leaders and critical thinkers, our physicians apply the latest clinical and technological advances in diagnosing and treating complex disorders of the brain, spine and nervous system. Our physicians have pioneered some of the most innovative treatments and complex surgeries that address conditions from the common to the very rare.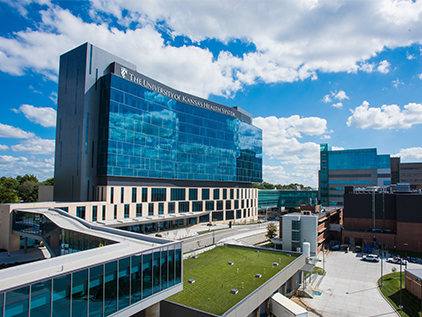 Elevating neurosurgery standards
With the 2017 opening of Cambridge Tower A, we became the region's only healthcare organization to offer an iMRI within the surgical suite.
Reduced risk, improved outcomes
Recognized for quality
You have choices when deciding where to receive healthcare. We have earned a number of accolades we hope will help you feel confident in choosing The University of Kansas Health System for your care.

Nationally ranked
Our neurology and neurosurgery program ranked No. 31 on U.S. News & World Report's 2018-19 Best Hospitals list.

Top academic medical center
Earned Vizient's 2018 Bernard A. Birnbaum, MD, Quality Leadership Award; ranked 5th out of 99 academic medical centers studied.

Providing the gold standard
We earned Gold Plus Honor Roll Elite Plus in the American Heart Association/American Stroke Association's 2018 Get With The Guidelines.
Expertise you can trust
More important than any award we could win is our opportunity to earn the trust of patients, families and referring physicians who turn to us to address complex healthcare needs. We turn our complete focus toward these needs, providing world-class care through our:
Designated National Institute on Aging-funded Alzheimer's Disease Center


Recognized Parkinson's Disease Center of Excellence by the National Parkinson Foundation


Certified Treatment Center of Excellence by the ALS Association


Multiple Sclerosis Achievement Center


Accredited Level 4 Epilepsy Center by the National Association of Epilepsy Centers


Certified Advanced Comprehensive Stroke Center by The Joint Commission
Related links