Skip Navigation
Implant-Based Breast Reconstruction
Implant-Based Breast Reconstruction
During implant-based breast reconstruction, your plastic surgeon uses a special expander implant, filling it with saline through a port. The skin is gradually stretched enough to accommodate a breast implant beneath the tissue.
Women who have undergone treatment for breast cancer and lost one or both breasts, or who have experienced other trauma to the breast, may decide to undergo breast reconstruction surgery and receive implants. They may also consider reconstruction if they have lost only a portion of the breast to, for example, a lumpectomy. These women are cancer-free and are emotionally ready to go through the change in appearance that is a part of breast reconstruction.
The 2 general breast implant types are saline and silicone. Saline implants are considered by some to be the preferred option because they are easily adjustable and require fewer incisions to insert because the implant is inflated once in place.
Some women feel safer with saline implants because they fear the risk of silicone contamination in the event of rupture. There is, however, no evidence indicating that silicone implant rupture is harmful. Silicone implants are regarded as the option with the more natural look and feel.
Top 3 Options For Breast Reconstruction
Dr. Richard Korentager: We're able to do a form of reconstruction utilizing most commonly the tummy tissue in a woman or at times the inner thigh tissue and the tissue is isolated on very tiny little blood vessels. The tissue is then transferred up to the chest wall, and the blood vessels are hooked up under the microscope allowing that tissue to live.
Dr. Richard Korentager: What we've been able to offer women at the University of Kansas is the ability to do that procedure with very minimal injury to the stomach muscles. So that even in a young woman, once they've recovered, they're going to be able to do all their normal activities. They're not gonna have any significant abdominal wall weakness and that can really impact their quality of life very dramatically.
Dr. Julie Holding: These are the basic types that we have right now. There's two compositions of implants. There's the saline implants here. This has an air bubble. It wouldn't normally have it, but this is what it looks like. You can see some of the problems with this is that it's a little more firm and there's some rippling associated with it.
Patient: Oh okay. I saw that.
Dr. Julie Holding: Some women like this though just because if something happens to the outer shell and it gets a hole, it's just salt water, so your body will absorb it. Then you have here, these are two types of implants. These are silicone implants. This is a sort of a semi-solid, cohesive gel implant. It's a little softer. A lot of women like that for reconstruction because it has a more natural feel to it.
Dr. Julie Holding: And then here's a more solid implant that if you cut it in half, it looks like a gummy bear and it maintains its shape.
Patient: I've seen people talk about the gummies online. Say gummies or-
Dr. Julie Holding: So the one nice thing about these, is it gives you a more rounded shape and a little bit more projection. This will give you more of a slope and this will also give you somewhat of a rounded shape. They're all safe options. It just depends on what you prefer and what you like.
Dr. Julie Holding: The silicone implants, the ultra high profile is put in. You're okay with the volume?
Patient: Yeah and I think I have told you they were up really high so I was wearing the band to push 'em down and so now really just the contouring maybe I could work on that. But I really like the feel of it versus the expanders definitely. It was a huge difference. It's definitely a big difference. It feels more natural and not so uncomfortable.
Dr. Julie Holding: You have to wait for everything to settle for about three months.
Patient: So that would put me in the summer. So since I'm in the water a lot, is there any way I could delay it 'til after boat season?
Dr. Julie Holding: Yeah, you could do it any ... As long as it's after three months, you could do it whenever it's convenient for you.
Who undergoes implant breast reconstruction?
Women who have undergone mastectomy or whose breasts have decreased in size or are asymmetrical due to breast cancer treatment, surgery or other trauma may be candidates for breast reconstruction surgery. Among these individuals, those who wish to have a lower-cost procedure and who have insufficient tissue for a flap procedure often choose to undergo the procedure with breast implants.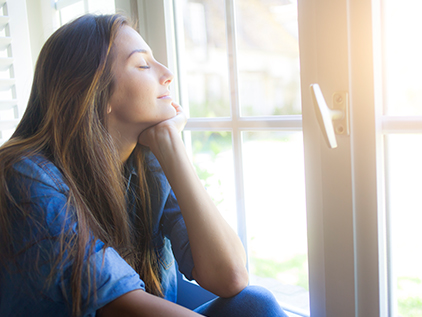 Thinking about breast reconstruction after mastectomy?
Explore this helpful resource that provides education on the physical and emotional impact of breast reconstruction and support for women considering or undergoing it.
Connect with women like you
How does reconstruction with implants work?
Breast reconstruction with implants typically requires about 2 hours in an outpatient or inpatient hospital setting. Prior to surgery, you will consult with your plastic surgeon and oncologist to determine a recommended course of action. If a mammogram or other breast examination reveals that there is no cancer recurrence, the procedure will proceed as planned.
In order to place the implant, the breast tissue and skin are lifted to create a pocket. A temporary tissue expander may be used in order to prepare the breast for an implant. The expander is then taken out once the skin has adequately stretched, and the implant is inserted in its place.
If you are receiving an adjustable implant, the permanent expander implant will allow for future adjustments. The valve will be removed once full expansion is accomplished, which may take 4-6 weeks.
What to expect after implant breast reconstruction
You will be given instructions on how to care for the tape and bandages that are used to protect the incision sites. A support bra will be given to you to wear for the first few weeks as your breasts heal.
Most individuals return to work within a few days following surgery, but you should avoid strenuous activity until your surgeon or physician gives their approval. Please be aware swelling and bruising are common, and it can take up to 6 months before your chest feels and looks normal.
Call us at 913-588-2000 to set up an appointment with one of our plastic surgeons in Kansas City or Westwood. We welcome all of your questions and concerns regarding breast reconstruction and other cosmetic or reconstructive procedures.