Skip Navigation
Implant-Based Breast Reconstruction
Implant-Based Breast Reconstruction
Women who have had treatment for breast cancer and lost 1 or both breasts, or who have experienced other trauma to the breast, may decide to get breast reconstruction surgery using breast implants.
The University of Kansas Health System offers a complete range of breast implants for breast reconstruction. We'll work closely with you to make sure you know all your breast reconstruction options to ensure an end result that meets your goals.
What is implant-based breast reconstruction?
There are several possible techniques that plastic surgeons can use during breast reconstruction. Implant-based breast reconstruction is 1 option, and it involves using breast implants to recreate the breast shape and profile.
The 2 general breast implant types are saline and silicone. Saline implants are considered by some to be the preferred option because they are easily adjustable and require fewer incisions to insert because the implant is filled once in place.
Some women feel safer with saline implants because they fear the risk of silicone contamination in the event of rupture. There is, however, no evidence indicating that silicone implant rupture is harmful. Silicone implants are regarded as having a more natural look and feel.
Who can have breast reconstruction with implants?
Women who have had mastectomy or whose breasts have decreased in size or are asymmetrical due to breast cancer treatment, surgery or other trauma may be candidates for breast reconstruction surgery. Among these individuals, those who wish to have a lower-cost procedure and who have insufficient tissue for a tissue-based breast reconstruction often choose reconstruction with breast implants. These women are cancer-free and are emotionally ready to go through the change in appearance that is a part of breast reconstruction.
How does breast reconstruction with implants work?
During implant-based breast reconstruction, your plastic surgeon uses a special expander implant, filling it with saline through a port. The skin is gradually stretched enough to accommodate a breast implant beneath the tissue. This is a process known as tissue expansion, which can be used to create excess skin as part of many reconstructive procedures but is most often used in breast reconstruction.
The tissue expansion process is gradual, and can take several weeks to complete. Once the skin has expanded enough to allow for final implant placement, your surgeon will then schedule your reconstruction surgery. The tissue expander implant is at that time replaced with a saline or silicone breast implant.
Benefits and risks of breast reconstruction using implants
The most common complication of implant-based breast reconstruction is the risk of capsular contracture. Capsular contracture is when excessive scar tissue builds up around the implant, a condition that can range from uncomfortable to painful.
However, many women feel that reconstruction with implants offers the best outcome for them following a mastectomy or other trauma to the breast. Your doctor will discuss all the benefits, risks and different reconstruction surgery options with you during your consultation.
What happens during implant-based breast reconstruction?
Breast reconstruction with implants typically requires about 2 hours in an outpatient or inpatient hospital setting. Prior to surgery, you will consult with your plastic surgeon and oncologist to determine a recommended course of action. If a mammogram or other breast examination reveals that there is no cancer recurrence, the procedure will proceed as planned.
In order to place the implant, the breast tissue and skin are lifted to create a pocket. A temporary tissue expander may be used in order to prepare the breast for an implant. The expander is then taken out once the skin has adequately stretched, and the implant is inserted in its place.
If you are receiving an adjustable implant, the permanent expander implant will allow for future adjustments. The valve will be removed once full expansion is accomplished, which may take 4-6 weeks.
You will be given instructions on how to care for the tape and bandages that are used to protect the incision sites. A support bra will be given to you to wear for the first few weeks as your breasts heal.
Most individuals return to work within a few days following surgery, but you should avoid strenuous activity until your surgeon or physician gives their approval. Please be aware swelling and bruising are common, and it can take up to 6 months before your chest feels and looks normal.

Still the best
Our hospital continues to rank as the best in Kansas City and in Kansas according to U.S. News & World Report.

Magnet-recognized
The University of Kansas Hospital has been designated a Magnet® facility by the American Nurses Credentialing Center since 2006.

Respect for all people
Named a leader in LGBTQ+ Healthcare Equality by the Human Rights Campaign.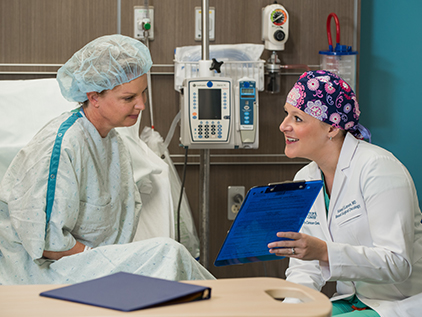 Cancer care you can count on
The University of Kansas Health System is part of The University of Kansas Cancer Center – 1 of just 54 NCI-designated comprehensive cancer centers in the nation.
Our cancer care
Related links