Skip Navigation
Neurosciences Care Services
Neurology and Neurosurgery Services
We offer some of the nation's best neurology and neurosurgery treatments right here in Kansas City.
Comprehensive care
Combining experience with leading technologies – including imaging and brain mapping – our specialists extend advanced, comprehensive care to patients facing complex brain, spine and nervous system conditions. The opening of Cambridge Tower A expanded our ability to treat more patients. Our involvement in research and clinical trials ensures patients have access to the most advanced treatments the field has to offer.
Our deep expertise, unending compassion and sophisticated technology together ensure no patient needs to leave Kansas City to receive the best possible neurology and neurosurgery care. Representing the premier academic medical center in our region, our physicians are driven to advance care options, continuing to research new treatments and teach the next generation of providers. Patients from across the country and from several nations around the globe have visited Kansas City to receive our leading care.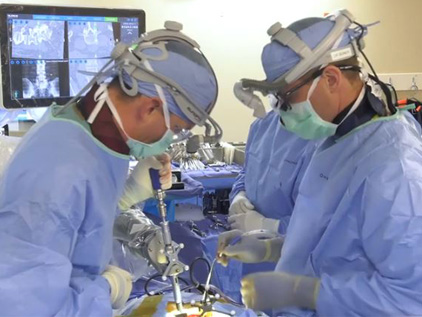 Robot-assisted spine surgery
These procedures provide the best in patient care using robotics and navigation. Robot-assisted spine surgery decreases time in surgery, enhances safety, improves accuracy and reduces exposure to radiation.
Learn more
What we offer
Our neurologists and neurosurgeons subspecialize. This means that each physician has dedicated their life's work to providing advanced care for very specific conditions. Specialists also regularly collaborate with colleagues. The combination of subspecialty focus with interdisciplinary teamwork ensures patients receive complete, seamless care that is both broad and deep.
You may have the best quarterback, but you can't play quality football without a strong offensive line. We have the whole team. – Jules Nazzaro, MD

Neurosurgeon
Conditions we treat
Muscular dystrophy
Myasthenia gravis
Increasing quantity and quality of life
Discover how our neurology and neurosurgery teams have made a difference for patients facing complex conditions of the brain, spine and nervous system.
Read our patient stories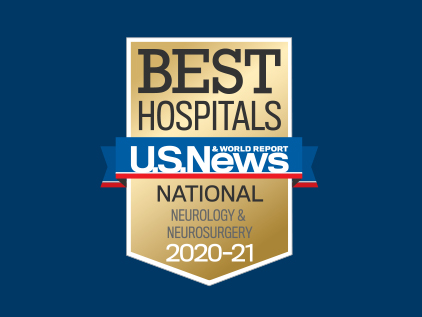 Ranked among the nation's best
Our program ranked among the nation's best in U.S. News & World Report's Best Hospitals 2020-21. Rankings are based on measurable achievements in quality, safety, nursing excellence and more. We are proud to provide you and your loved ones with nationally recognized neurology and neurosurgery care.
Read about this honor
Related links