Skip Navigation
Neurology and Neurosurgery
Neurology and Neurosurgery
The neurology and neurosurgery specialists at The University of Kansas Health System provide world-class neurology care for people living with complex conditions of the brain, spine and nervous system. For the people of Kansas City and beyond, our neurology and neurosurgery specialists offer experience and expertise to support you through evaluation, diagnosis and recovery.
We deliver the Kansas City region's best care using the most innovative diagnostic technologies and treatment options. Our focus, skill and compassion combine to guide and support you through your healthcare journey.
Our experts not only make a difference for individuals and their families, but also drive medical advancement in their specialized fields.
About neurology and neurosurgery
Combining experience with leading technologies – including imaging and brain mapping – our specialists extend advanced, comprehensive care to people facing complex brain, spine and nervous system conditions. Our involvement in research and clinical trials means you have access to the most advanced treatments the field has to offer.
Our deep expertise, unending compassion and sophisticated technology together ensure no patient needs to leave Kansas City to receive the best possible neurology and neurosurgery care. Representing the premier academic medical center in our region, our physicians are driven to advance care options, continuing to research new treatments and teach the next generation of providers. People from across the country and from several nations around the globe have visited Kansas City to receive our leading care.
Leaders in neurology and neurosurgery
As passionate leaders and critical thinkers, our physicians apply the latest clinical and technological advances in diagnosing and treating complex disorders of the brain, spine and nervous system. Our physicians have pioneered some of the most innovative treatments and complex surgeries that address conditions from the common to the very rare.
Our neurologists and neurosurgeons are local and national leaders in their fields. They are involved daily in achieving the best possible outcomes for patients while striving to elevate standards in neurology and neurosurgery care.
This team routinely applies the latest diagnostic and treatment options to create individualized care plans for every patient. It is our goal that our combination of experience, technology and compassion inspires hope and confidence for patients and families.
We work together as an interdisciplinary care team to address every aspect of your health. We offer the largest neurosciences team in the region and are honored to treat patients throughout Kansas City, our region and the nation.
Collaborating for better care
In addition to some of the industry's best neurologists and neurosurgeons, our team includes fellowship-trained neuro-oncologists, board-certified neuropsychologists, board-certified and fellowship-trained neurointensivists and board-certified vascular neurologists available 24/7 to provide stroke care. These qualifications ensure our team's ability to provide effective neurology and neurosurgery care for the sickest patients in Kansas City and far beyond.
Expertise you can trust
More important than any award we could win is our opportunity to earn the trust of patients, families and referring physicians who turn to us to address complex healthcare needs. We turn our complete focus toward these needs, providing world-class care through our:
Accredited Level 4 Epilepsy Center by the National Association of Epilepsy Centers
Certified Advanced Comprehensive Stroke Center by The Joint Commission
Certified Treatment Center of Excellence by the ALS Association
Designated National Institute on Aging-funded Alzheimer's Disease Center
Multiple Sclerosis Achievement Center
Recognized Parkinson's Disease Center of Excellence by the National Parkinson Foundation
Neurology and neurosurgery services
We offer some of the nation's best neurology and neurosurgery treatments for conditions like muscular dystrophy and myasthenia gravis. We also treat:

Still the best
Our hospital continues to rank as the best in Kansas City and in Kansas according to U.S. News & World Report.

Changing stroke care
We were among just 26 sites worldwide to participate in the revolutionary DAWN trial, which changed the standard of care.

Providing the gold standard
We earned Gold Plus Honor Roll Elite Plus in the American Heart Association/American Stroke Association's 2018 Get With The Guidelines.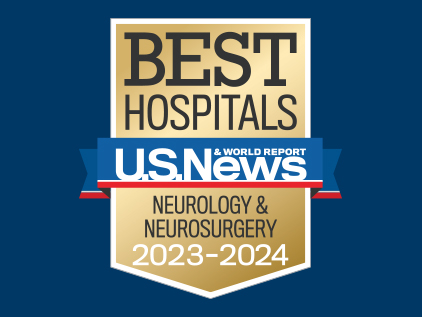 We believe patients come first
We start by putting patients first and it shows. Our program ranked No. 25 among the nation's best in U.S. News & World Report's Best Hospitals 2023-24. Rankings are based on measurable achievements in quality, safety, nursing excellence and more.
Read about this honor
Skull base care restores eyesight
Vision loss sent Reggie Peoples to the health system. The collaborative skull base care team removed a tumor in a minimally invasive surgery and restored Reggie's sight.
Reggie's story
Surgery ends seizures for wife, mother, nurse
Our expert care team discovered a brain abnormality no other provider had ever detected. Brain surgery put an end to debilitating seizures Jessica had suffered for decades.
Read Jessica's story
Current patients can self-schedule care through MyChart. Don't have a MyChart account? Sign up now to create one.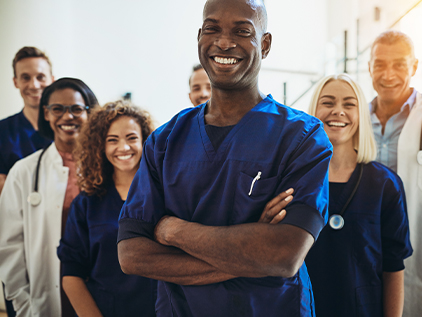 Find a doctor
Doctors at The University of Kansas Health System are care providers and researchers at the forefront of new medical discoveries. From primary care to complex conditions, we offer hundreds of specialists.
Find a doctor