Skip Navigation
Our urologists are dedicated to providing our patients the most advanced urological patient care, now and for the future. Our patients receive care from a highly specialized and knowledgeable care team and receive the best treatment and leading-edge options – even for those with difficult cases. We also offer patients more access to clinical trials and promising drug discoveries.
As a regional referral center with high volume and excellence, we have been recognized as providing the best urology care in the state of Kansas.
Our Kansas City urologists have dedicated their careers to specialized care within urology and have set standards for urology care in Kansas City, the region and the nation. They have also received additional training (fellowships) in order to provide the most specialized care in the different urological problems.
Our urology specialties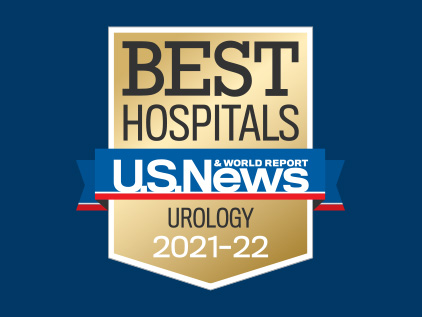 Ranked among the nation's best
Our program ranked No. 27 among the nation's best in U.S. News & World Report's Best Hospitals 2021-22. Rankings are based on measurable achievements in quality, safety, nursing excellence and more. We are proud to provide you and your loved ones with nationally recognized urology care.
Read about this honor
Why The University of Kansas Health System for Urology Care
Urology consistently receives one of the highest patient-satisfaction scores at 95%, as reported by Press Ganey, and 95% of the patients seen by our physicians would recommend our practice to a friend or family member.
We are the only hospital and academic medical center in the region offering specialists in every area of urology, and is a major referral center for all types of urological care.
Our care team also serves as professors at the University of Kansas Medical Center and have nationally recognized researchers within their respective fields, as reflected in the numerous publications, book chapters, national presentations, editorial positions for medical journals and awards.
The only center in Kansas City with nationally recognized fellowship-trained surgeons in urologic cancer presently using the robot for prostate cancer, bladder cancer, and kidney cancer surgery.
A fellowship-trained specialist in endoscopy for stones and minimally-invasive surgery.
The only fellowship-trained specialist in urologic trauma and reconstruction in the Kansas City metro and the region.
A nationally recognized fellowship-trained specialist in male infertility, microsurgery, and men's sexual health in the Kansas City metro and region.
The only two fellowship-trained specialists in female incontinence and female urologic issues in the Kansas City metro and region.
A nationally recognized specialist in the care of urologic diseases in the elderly.
Our nationally known group of Kansas City urologists pride themselves on their expertise and innovations that lead to the best urologic care for you and your family. We strive to maximize knowledge and experience for our patients. We strive to deliver ethical, comprehensive, state-of-the-art care for all urologic conditions. In an effort to deliver the finest care possible, we believe in exploring all therapeutic alternatives, including conventional treatments and complementary medical therapy, as well as emerging therapies, such as complex microsurgery, advanced laparoscopy with robotics, lasers and nerve stimulation (neuromodulation).
Patients with complex cases are referred to us from all over the Midwest because of our surgical experience. Experience and knowledge – actions do speak louder than words.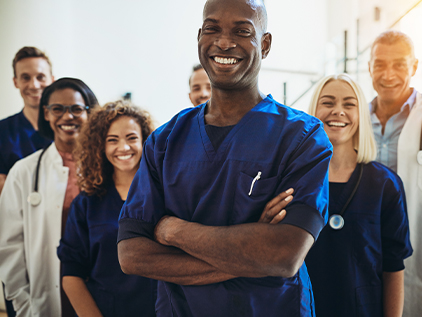 Find a doctor
Doctors at The University of Kansas Health System are care providers and researchers at the forefront of new medical discoveries. From primary care to complex conditions, we offer hundreds of specialists.
Find a doctor
Urology locations
1. Medical Pavilion

2000 Olathe Blvd., Level 2A
Kansas City, KS 66160

Mon

8 a.m. - 4:30 p.m.

Tues

8 a.m. - 4:30 p.m.

Wed

8 a.m. - 4:30 p.m.

Thur

8 a.m. - 4:30 p.m.

Fri

8 a.m. - 4:30 p.m.

Sat

Closed -

Sun

Closed -

2. Corporate Medical Plaza

10777 Nall Ave.
Suite 210
Overland Park, KS 66211

Mon

8 a.m. - 4:30 p.m.

Tues

8 a.m. - 4:30 p.m.

Wed

8 a.m. - 4:30 p.m.

Thur

8 a.m. - 4:30 p.m.

Fri

8 a.m. - 4:30 p.m.

Sat

Closed -

Sun

Closed -

3. KU MedWest

Urology
7405 Renner Road, Pod C
Shawnee, KS 66217

Mon

8 a.m. - 4:30 p.m.

Tues

8 a.m. - 4:30 p.m.

Wed

8 a.m. - 4:30 p.m.

Thur

8 a.m. - 4:30 p.m.

Fri

8 a.m. - 4:30 p.m.

Sat

Closed -

Sun

Closed -

4. Westwood Medical Pavilion

2650 Shawnee Mission Pkwy.
Westwood, KS 66205

Mon

8 a.m. - 5 p.m.

Tues

8 a.m. - 5 p.m.

Wed

8 a.m. - 5 p.m.

Thur

8 a.m. - 5 p.m.

Fri

8 a.m. - 5 p.m.

Sat

Closed -

Sun

Closed -

HOL

Closed -
Urology research and education