Skip Navigation
We offer comprehensive primary pediatric care in the Kansas City area to meet your child's healthcare needs today and for a lifetime. As an academic medical center, we're always discovering better ways to help children stay healthy and get well faster. This lets us incorporate some of the latest medical breakthroughs into your child's care. It's all part of making sure we are always advancing the power of medicine.
To schedule an appointment, call 913-588-1227 or request an appointment online. If you are an established patient, call 913-588-6300.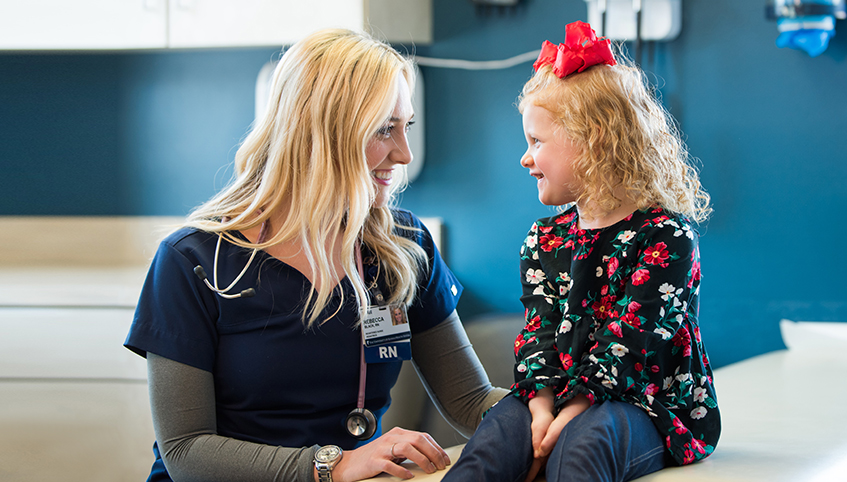 Experienced pediatricians
The University of Kansas Physicians is the largest multispecialty medical practice in the Kansas City area. Here, you have immediate access to a team of experts covering more than 35 specialties and programs.
Our pediatricians incorporate the latest medical breakthroughs to treat children with all types of simple and complex conditions, illnesses and behavioral and developmental conditions. From general check-ups to streamlined care for serious issues, you and your child can rely on board-certified physicians, advanced practice nurse providers, magnet-designated nurses and an entire support team that provides a complete range of services.
Our physicians provide:
Our services
We offer a complete spectrum of primary pediatric care services and programs in the Kansas City area, including:
Routine, well-child exams (birth-18 years)
Immunizations
School and sports physicals
Same-day sick child appointments (for established patients)
Developmental evaluations
Treatment for common illnesses
Referrals to the region's leading subspecialty doctors
In addition, we offer a number of subspecialists within our practice such as:
Care you can trust
Our pediatric practices are designated as Patient-Centered Medical Homes by the National Committee for Quality Assurance (NCQA). This designation ensures that your child will receive comprehensive, coordinated, high-quality care.
What this means to you:
Your child receives coordinated care.
Your child's medical records will be accessible electronically, through MyChart.
You are a partner in your child's care, involved in every step of their care plan.
Your child receives the most advanced tests and treatments available.
Your child receives complete care for the whole person – considering all aspects of health and well-being.
Extended, convenient hours
We offer weekend, evening and same-day appointments for your convenience. When you have a question about your child's health, a physician is on-call 24/7 to provide you with expert advice when you need it most.
Convenient locations
1. Village Office Center

7301 Mission Road
Building B, Suite 350
Prairie Village, KS 66208

Mon

8 a.m. - 4:30 p.m.

Tues

8 a.m. - 4:30 p.m.

Wed

8 a.m. - 4:30 p.m.

Thur

8 a.m. - 4:30 p.m.

Fri

8 a.m. - 4:30 p.m.

Sat

Closed -

Sun

Closed -

2. Medical Pavilion

Pediatrics
2000 Olathe Blvd., Level 3B
Kansas City, KS 66160

Mon

8 a.m. - 4:30 p.m.

Tues

8 a.m. - 4:30 p.m.

Wed

8 a.m. - 4:30 p.m.

Thur

8 a.m. - 4:30 p.m.

Fri

8 a.m. - 4:30 p.m.

Sat

Closed -

Sun

Closed -

3. KU MedWest

Pediatrics
7405 Renner Road , Pod A
Shawnee, KS 66217

Mon

8 a.m. - 4:30 p.m.

Tues

8 a.m. - 4:30 p.m.

Wed

8 a.m. - 4:30 p.m.

Thur

8 a.m. - 4:30 p.m.

Fri

8 a.m. - 4:30 p.m.

Sat

Closed -

Sun

Closed -
Insurance coverage
We accept KanCare, Medicaid and most major insurance plans.
Language services
The University of Kansas Health System provides translators so you can communicate about your child's health. Many of our doctors and staff are bilingual, and we can accommodate dozens of languages in our clinics.